Perception – Rambler 9.5 – 2022
Additional Info
Perception Kayaks – Rambler 9.5 – 2022
LIMITED QUANTITY – IN-STORE PICK UP ONLY:
AVAILABLE AT MAUMEE & GRAND RAPIDS LOCATION
***CALL TO LEARN ABOUT OUR CASH DISCOUNT***
Length: 9'6″
Width: 32″
Deck Height: 13.1″
Boat Weight: 47lbs
Capacity: 250lbs
DESCRIPTION:
A versatile, stable and fun sit-on-top kayak.
The Perception Rambler series of playful sit-on-top kayaks offer supreme stability and fun for a wide range of ages and abilities. Perfect for enjoying lakes, ocean bays, light surf, and slow rivers, the Rambler inspires confidence in a design that's easy to maneuver.
The supremely stable sit-on-top design has been engineered for exceptional safety and is easy for anyone to get in and out of. The shorter length and light weight of this 9-foot-6 model make it simple to transport and store. Features like easy-access storage and a roomy seat that's padded and adjustable mean maximum comfort while you're on the water.
Proudly designed, molded and hand-assembled in the USA, the Rambler 9.5 kayak is backed by a 5-Year Warranty.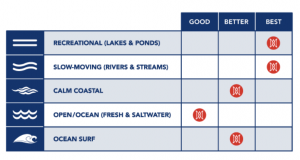 Sunset: Red/Orange
Dapper: Blue/Black