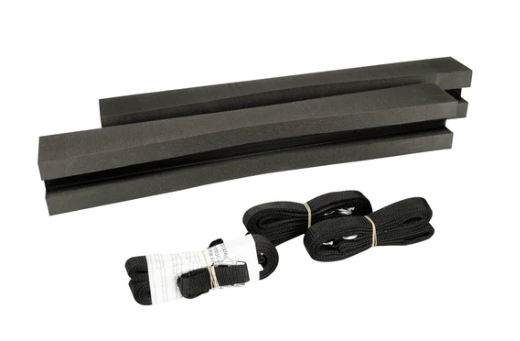 Pelican Kayak & SUP Car-Top Carrier Kit
Additional Info
Specs:
Length: 23.625 in – 60.01 cm
Height: 4 in – 10.16 cm
Width: 6.75 in – 17.15 cm
Description:
This roof carrier kit allows you to easily transport your kayak or stand up paddle board (SUP) on most cars. The kayak and SUP carrier kit includes strong adjustable straps and anti-slip foam blocks that allow you to carry your kayak or SUP easily and safely on most vehicles.* You're ready to go out and play!
*Before loading your kayak or paddle board on top of your vehicle. verify your roof's capacity and the requirements recommended by your vehicle manufacturer. especially in the case of sunroofs.
Pelican is not responsible for any damages that may occur as a result of improper installation or use.
Compatibility: Extremely practical, this transport kit works with any kayak and SUP up to 32 in. wide and 14 ft. long. Keep in mind that it's important to check the maximum load recommended by your vehicle manufacturer before installing your boat.
Easy To Use: This kit has everything you need and is quick and easy to use. It fits most vehicles due to the adjustable straps and two piece foam blocks. It will allows you to easily transport your boat.
Lightweight: Due to the quality of materials used, this kit is really light and easy to store. It also comes with a storage mesh bag.
Foam: This carrying kit includes 2 soft foam pads of 58 cm x 9 cm (22.7 in. x 3.4 in.). The pads are made of EVA. EVA is a very flexible and elastic component that offers better shock resistance when you travel with your kayak/SUP.
Safe: EVA foams also have adhesive properties that ensure that the pads stay in place on your car while driving. Simply place them on the roof of your car and install your boat on them.
Straps: The SUP or kayak roof carrier kit includes 2 small straps of 28 cm (11 in.) with a buckle and a metal hook and one strap of 450 cm (177 in.) with a buckle.
Strong: The straps are made of polypropylene filament which is characterized by its high resistance. They can resist up to a maximum of 400 lb (182 kg).
Economic Option: This is a great cost-effective option to safely transport your watercraft.
Material: EVA