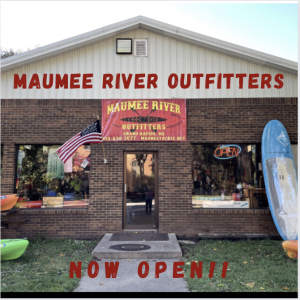 Opening May 2nd! We will being Kayak Rentals as soon as the weather permits, hopefully mid-May!
As of 2021, we expanded into Grand Rapids! We opened our secondary location "Maumee River Outfitters". We offer kayak rentals & sales here; along with selling fishing gear, kayak accessories, live bait, fishing/hunting licenses, and watercraft registrations!
Maumee River Outfitters Location: 24287 FRONT ST, GRAND RAPIDS OHIO,43522
Phone Number: 419-830-3077
Maumee River Outfitter Rentals:
We have a few different options to be able to accommodate to everyone different wants and needs on their kayak adventure, we are sure we have one thats perfect for you! We have both singles, and tandems available for rentals.

We strictly offer "sit on top" kayaks for ALL rentals ensuring the safest trip possible, to ensure an enjoyable stress-free adventure
Reservations are not required, but they are recommended to avoid disappointment. Call to make a reservation

Reservations require a $40 deposit – Any cancellations and/or adjustments must be made with AT LEAST 24HR NOTICE. Deposits will be forfeited if any less notice is provided.
Groups of 6 or more 50% non-refundable deposit required.  Inclimate weather is the exception. Trips are permitted to be rescheduled with a 24hr notice
Please be at the shop within 15 minutes of reservation otherwise we can not guarantee kayak availability

Credit Card & ID required on file
Must be 18 years or older to rent kayaks, otherwise adult signature is necessary
Paddles, & lifejackets provided with all rentals
Down River Trip – $40.00 per person- All day- No time limit. 
This option allows you to paddle the Maumee River and enjoy all the beautiful scenic views that come along with it! This is a great option if you're looking to try out kayaking for the first time, or just want to be able to go and explore some of the local islands located in the Maumee River. We are currently offering a 5-mile trip launching from Grand Rapids to Bend View/Otsego Rd. and 8 mile down river trip to Farnsworth Metropark . We will provide transportation to our drop off location, and once you're done kayaking you simply just call us and we'll be on our way to pick you up!
This is another great option if you are looking to try out kayaking for the first time. It once again includes your life jacket, paddle, and transportation. For the float around option you will kayak through the canal to above the dam and have the opportunity to explore a different part of the Maumee River. Once you're finished with your adventure you'll kayak back through the canal returning to the shop! Book here! 
We are now offering paddle board rentals! This may be a great option for those who are considering purchasing one of their own in the future
Social Media:
Instagram: @MaumeeKayak
Facebook: @MaumeeKayak or "Maumee River Outfitters"