First Walleye of the Season:
March 5th, 2022 – Jeff Duncan (Had the first Walleye in '21 as well). This is one day earlier than the first walleye was caught in 2021!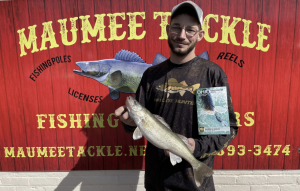 March 6-12: The beginning of the week started off strong with having some 1s, 2s, and 3s brought in. Bluegrass and Jerome were producing well. However, by the 8th the water was on the rise and had started to slow things down. We still saw a couple of fish brought in here and there but had significantly slowed down, especially with the cooler weather than had moved in. It seems like there is a ton in there, but they just seem to have "lockjaw" and aren't biting/moving too much. The darker colors such as purple/motor oil/black and greens seemed to be working the best from what we can tell. We are hoping this week will pick up with the warmer weather and the water level is back to normal!
March 13-19: The water is finally back down, and the weather is warming up so it should be looking good for us. The beginning of the week started out slow with just some 1s and 2s, but by mid-week bite was picking up! We saw our first limit brought into the shop on the 16th, and have seen them steadily since! The water was down enough to make every spot accessible, but the hot spots seemed to be Bluegrass Island, Buttonwood, and Jerome! Our fish cleaners also started this week, and you guys sure have been keeping them busy! Fort Wayne, Indiana as well as us currently are being hit with some rain which will push up that water level again for the beginning of next week AND bring in another fresh batch of Walleye. We are in good shape and should continue to steadily see fish being caught! As far as colors, Christmas lights and motoroil seem to be producing very well on those overcast/gloomy days and pinks, greens, and whites on bright, sunny days!
Big Jack:
March 20-26: 
The water was on its way up through the beginning of this week. But that didn't seem to stop the bite too much. Short casts seemed to be doing well as those fish were laying up close to the shore to catch a break from that current. Ford Street, White Street and Orleans were the hot spots during this high water. There have been quite a few bigger females being brought in, with decent size jacks. We haven't heard too many people having to throw any back for size.
March 27 – April 2: 
Well that high water finally started to drop, which allowed more spots to be accessible. It has been brutal out there, freezing cold and windy – that's a tough combination for fishing. However, the guys that are able to tough it out have been producing some pretty good results. The Towpath and Ft. Meigs area really produced well during this high water. As the water began to drop more and more, the bite seemed to slow down a bit. We still saw some limits brought in, but not as many as earlier in the week. Buttonwood and Bluegrass seemed like the spots to be once the water level reached 582 and below.
Big Jack : 4.71lbs
April 3- 9: 
Sunday was a tough day of fishing. We saw a few limits brought in there, but other than that it was a majority of 1s, 2s, and 3s. You really had to work for those limits, and it sure was cold out there. The water is sitting pretty low at roughly  581, however, Fort Wayne is supposed to get some rain this week which should help bring in a fresh push. Warmer weather will also help to get those fish moving, and make it more bearable for us fishermen, and fisherwomen. Saw lots of ones and twos throughout the beginning and middle of this week. Once we finally got that little bit of rain, it was just enough to get them moving and make them a little bit more active. We steadily saws 4s, 5s, and limits over the next couple days. As well as a TON of suckers being caught. Seems like for every 5 suckers, you get one walleye. On the bright side at least you're catching stuff out there!! There was a bit of a cold front towards the last bit of the week that once again seemed to slow that bite down.
April 10 -16: 
This week started out absolutely beautiful with temperatures in the 60s which was the warmest we'd had in quite some time. We saw 1s, 2s, and 3s during the beginning of the week. We got a little bit of rain in the beginning of the week, unfortunately, it really wasn't too much. It brought the level to about 581. It helped to turn up the bite a little bit, we started seeing some limits brought in but you were really having to weed out those suckers in the process.
April 17 – 23: 
Happy Easter everybody! The river is packed full of water, which is always a good thing. The water is a little up right now so just about everywhere is accessible. It has been an odd, cold spring thus far. This week is no different with a couple of mornings calling for 35 degrees, but it is supposed to warm up mid-week which should get those fish moving! The water has dropped fairly quick bringing us back down to low water spots, Jerome,  Bluegrass, & Buttonwood. We steadily saw fish brought in, lots of limits but you had to work for these fish.
April 24 – 30: 
During this week we started to see the bigger females being caught & FINALLY got to enjoy some nicer weather! We are also starting to see some white bass being caught so it is a good mixture of walleye and bass – just depends on what spot you hit!