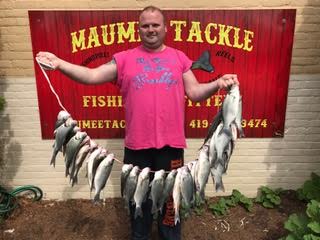 The species' main color is silver-white to pale green. Its back is dark, with white sides and belly, and with narrow dark stripes running lengthwise on its sides. It has large, rough scales and two dorsal fins. The more anterior dorsal fin is much harder and appears to have spines on them.] Most grow to a length between 10 and 12 inches, though they can reach 17 inches or more.
White bass are carnivores. ] They are visual feeders. When not frightened, they will bite readily at live bait such as worms . Only the largest fish will feed on other fish, and as the summer season progresses, there is an overall trend towards eating fewer fish.. When looking at midwestern white bass, particularly in Ohio diet overlap occurs between the bass and the walleye. As seasons progress through the summer and fall, the amount of diet overlap decreases as a result of both fish increasing in length.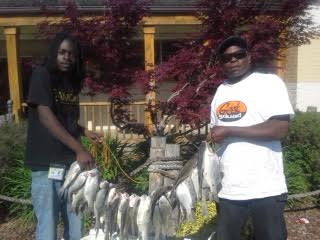 White Bass River Spawning
White bass migrates up most of the Western Basin tributaries from Lake Erie each year to spawn. The Sandusky, Maumee, and Portage rivers typically have the most white bass moving up in the spring. White bass may be found in the rivers from mid-April, toward the end of the walleye spawning run, through early June. The peak of the run is usually sometime in mid-May when water temperatures reach around 55 degrees F. The Maumee and Sandusky Rivers usually have the best fishing for white bass, but some years the Portage and Huron rivers also have good runs. In early spring white swim up current, out of Lake Erie and into its rivers, then it's creeks. Their number is vast, a seemingly endless procession of fish that are silver in shade and streamlined in form.
First come the smaller males, looking for the right combination of depth and current where spawning can take place. Then follow the females, fat-bellied with roe.When the water temperature reaches the high 50's, the run begins with the males moving up the tributaries first. They are followed in 1-2 weeks by the females. Now, this is a generalization, periodNot all fish spawn at the same time, and fishermen should understand this. Spawning for white bass and other fish may stretch out over a several periods. However, within that time span, there's usually a distinguishable period when spawning activity peaks, and this is when fishing is best."
White bass spawn just above or below riffles, and for a very specific reason. When the females drop their eggs and the males fertilize them, the eggs then settle to the stream bottom and stick to rocks, debris, brush, etc. During incubation, these eggs need oxygen to remain healthy. Faster-moving water around riffles carries more oxygen than does slow water in deep, quiet pools. Eggs deposited in these latter areas are likely to suffocate.
Under ideal spawning conditions, white bass are extremely prolific. One adult female regularly lays more than 500,000 eggs. However, for reasons unknown to biologists, white bass populations sometimes fluctuate broadly from year-to-year. It is known that unstable weather during peak of spawning can cause females to cease egg-laying, thereby causing a sharp reduction in the number of that year's age class of young fish.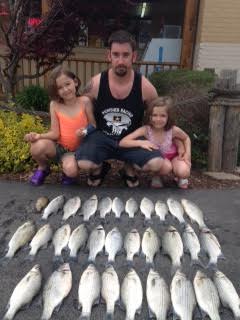 Fishing Techniques
Spring (March-April)
Fair Fish with small jigs tipped with plastic tails or minnows. Small flashy spoons or spinners are also effective. Some anglers fish minnows under bobbers as well. Fish around the mouths of tributary steams. Try locating fish in deep water associated with structure such as humps, drop offs, points or submerged road beds.
Pre-Summer (May)
Excellent Fishing in tributaries during a white bass spawning run is undoubtedly the best time to catch them. They will hit just about anything flashy including jigs tipped with plastic tails, spoons, spinners and live minnows. White bass can be caught in tributary streams as they migrate up the streams to spawn. This may be the best time of the year to catch white bass.
Summer (June-mid-September)
Excellent Night fishing can be effective this time of the year. Fish on calm days and watch for schools of white bass feeding on shad near the surface. Sea Gulls flying over head may point to white bass feeding near the surface. Use small,m flashy spoons or spinners. You may also try trolling with small, medium-running crank baits. Most fish are back in the reservoirs at this time of the year. They are generally found in the open water feeding on schools of shad.
Fall (mid-September-November)
Excellent Try night fishing with floating or submerged lights. The lights attract bait fish and the white bass will feed on the bait fish. Use live minnows fished below the schooling bait fish.
In upground reservoirs, fish near the pump house as water is pumped into the reservoir. Cast into the pump plum. White bass are in the open waters of the reservoirs feeding on schools of shad or minnows.
Winter (December-February)
Good Vertical jigging with small spoons or minnows. White bass are generally in the open water areas. They may be near shore when pumping into upground reservoirs.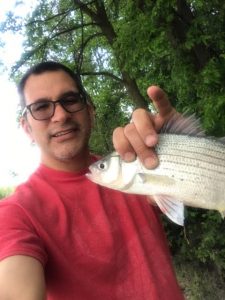 Fishing Tips
The best fishing area for the MAUMEE RIVER is from the Conant Street Bridge, in the city of Maumee, upstream to the end of Jerome Road, in Wood County, and below the Grand Rapids-Providence Dam in Lucas County.
Most anglers fish the streams by wading or fishing from shore. Small boats are sometimes used in all of the rivers. Boat ramps are available on the Sandusky River just north of the State Street Bridge in Fremont (pay ramp), and on the Maumee River at the foot of Maple Street in Perrysburg and at Orleans Park. Also in Perrysburg, car-top boats can be put in at most of the parking areas.
Best baits for white bass are floating jigs tipped with a minnow or 1/8 and 1/4 oz. lead-head jigs (size depends on river flow, in lower flow use lighter lead) tipped with white, yellow or fluorescent colored twisted plastic tails or minnows. Small silver-colored spinners and spoons may also catch white bass. Small minnows are sometimes more effective especially when white bass are biting slowly.
Any variety of fishing rods and reels can be used to catch white bass.
Regulations
There is no daily bag or size limit on white bass.