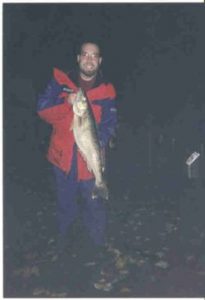 When Lake Erie begins to cool below 65 degrees  the baitfish( minnows, gizzard shad ) come into the shallow waters and  walleye can be caught at night casting from the shore. Nighttime fishing is often shallow fishing. You are going to be working in 15 feet or less. Keep your lure 1- to 3- feet off the bottom to detect strikes better. Walleyes bite extremely light at night. If always running your bait right on the bottom or through weeds, you'd set the hook on everything or become complacent and never set the hook at all. But when you know your bait is running free above most obstructions, the slightest tick brings a solid hook set. Proven crank baits are Rapala Husky Jerks or Bomber Long  A's.  Don't be afraid to use heavier line. It won't spook the fish and you can pull most snags free without break offs. Night fall brings out the aggressive side in walleye. Walleye hunt from below their prey. They use the lighter sky to locate the silhouette of their next meal. Using darker colors in your lures can be advantageous. Blacks, dark purples, navy blues and browns really stand out against the night sky, but that doesn't mean that all your lighter colored lures need to stay in the tackle box . Also  baits with flash can work wonders especially if they create noise and vibrations. Lighter color lures are also easier to see in the dark.
When's the best time to catch nighttime walleye? Walleye activity typically picks up at dusk and lasts until full darkness falls. After this, there is usually a one to two hour lull. This happens because the walleye need time to adjust to the changing light. Once their eyesight is ready, the action picks back up and can last until the dawn.
Not all anglers are eager to hit the water after dark. Those who are willing to stay out a little longer may be able to haul in a trophy-size walleye. With a little planning and preparation, you might be able to take home a fish worth staying up for.
Also take a light action rod along and  throw a few minnows out under a bobber while your casting for Walleye and you will probably bring in a few yellow perch in between the Walleye action.
Remember we have everything you need at  much lower prices than the big box stores  to have a successful night of fishing.
Have a great night out there and be safe.