Maumee River
LEVEL-581.6
TEMP- 59.0 Â degrees
Barometer: 29.89 and falling
Wading to Bluegrass Island is possible
Clarity-5 inches
Sunrise : 6:44 AM (First cast)
Sunset: 8:22 PM (Last cast)
The water from the heavy rain the other day finally made it our way and the river came up another 6 inches from yesterday morning and cooled the river temp just a bit which is just what we needed. We are still seeing some good limits coming out of Bluegrass , Buttonwood and Jerome Rd Rapids and expect more again today.
With the weather change we have seen some different colors begin to work better than others, the rocket red (kinda hot pink) and some of the more natural colors are working good on the walleye and those white bass that are starting to move in. Fishing the Maumee River during a white bass spawning run is undoubtedly the best time to catch them. They will hit just about anything flashy including jigs tipped with plastic tails, spoons, spinners and live minnows. White bass can also be caught in tributary streams as they migrate up the streams to spawn.
The weekend is still shaping up to be very good ,no storms in the forecast just cloudy.
The 6th Annual Maumee high school vs Perrysburg high school fishing tournament is today Saturday April 22nd. The intent is to promote good fellowship between the two schools- 2 longest walleye and 2 longest white bass combo wins- FREE Registration and rules available here at Maumee Tackle Open to all high school students and Alumni
Weight:1/2-5/8 oz
Leader:24-36 inches
Colors: white head/rocket red Tail – orange head / watermellon red flake tail – blackhead /baby bass( kinda bass skin lookin0tail – red head/White tail
Weather Report
TodayPartly sunny, with a high near 56. Northeast wind 8 to 14 mph.
TonightPartly cloudy, with a low around 39. Northeast wind 5 to 8 mph.
SundaySunny, with a high near 63. Northeast wind 6 to 8 mph.
Have Fun Be safe and Good LucK Fishing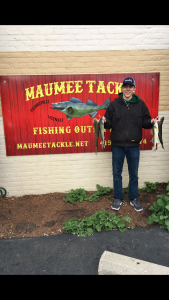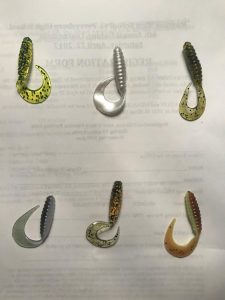 +
Suggested Baits