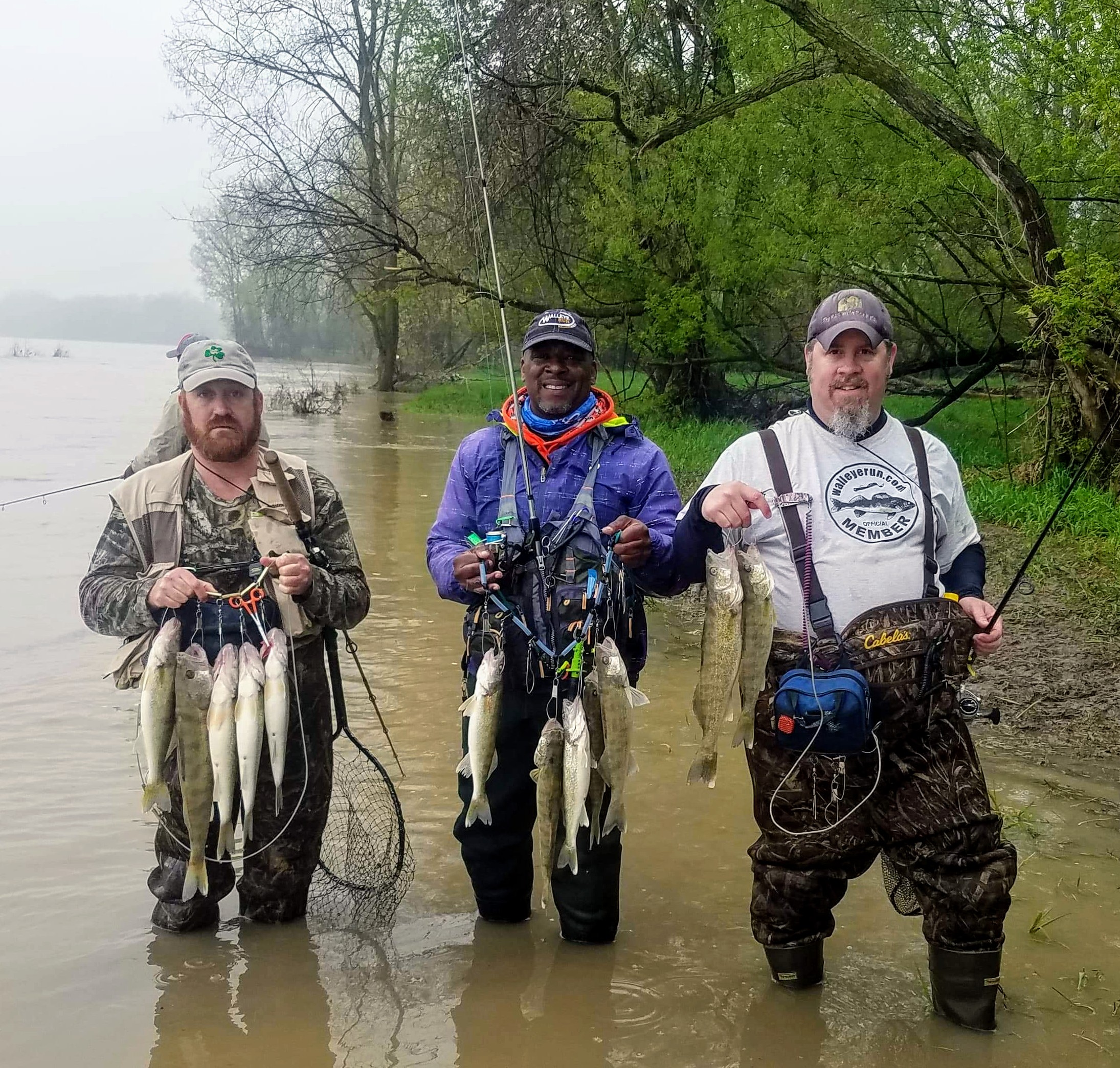 Barometric Pressure
28.22
Pictured above- 5, 5 and 2–they're in there guys just come on up and get em!
Ohioans Invited to Enjoy a Weekend of Free Fishing May 4-5
Ohio residents may fish for free in any of Ohio's public waters, including Lake Erie and the Ohio River.
It is the only weekend all year when those 16 years old or older are not required to obtain a fishing license to fish in the state's public waters.
We saw some nice sized walleye caught yesterday, some by Whites street, And along the Towpath-Ford st area. . With this cold spring they are still running. 
Lake Erie
Fishing has been tough recently due to the very turbid water conditions caused by the rain and winds. Anglers have been doing best where they can find cleaner water. Trolling dark colored stick baits have been producing best with leads ranging from 30-120 feet back at 1.2-1.6 mph. Action has been best north and west of Kelleys Island, between Kelleys Island and the monument on South Bass Island, and off Vermillion. Anglers have also reported doing well off Lucy's Point on the northeast corner of Middle Bass Island.
Anglers are advised to be cautious in the early spring. Extremely cold water temperatures put anglers at a high risk for hypothermia. Always wear your life jacket and leave a float plan with someone on shore of your intended plans.
Be safe , Have fun and Good luck Fishing
Firearms Sales
That's right, we got our Federal Firearms License, and we have brought in a small rack of firearms and ammunition.
In the age of big box outdoor stores, we here at Maumee Tackle are still trying to keep it personal. Bringing in firearms just adds to the "old-fashioned sporting goods store" feel that Maumee Tackle customers enjoy.
Maumee Tackle Gun Sales
*click on images to enlarge*
We are stocking  primarily long guns geared toward hunting and target shooting.
Below are some of the firearms that we currently have in stock.-In store sales only.

*Click on Images to enlarge*
We are also stocking a case of several handguns. Mainly, we'll be stocking personal defense calibers such as 9mm, .38 special, .380 and some .22s as well.
Right now we will not buy, trade, or consign firearms, Maumee Tackle will offer new gun sales only.
Firearm Transfers
At this time, we are also able to process firearms transfers. This means that if you purchase a gun from an online gun dealer or for an in-person private transfer, we can accept the delivery and for a $25 fee, process the background check, do the paperwork and transfer the firearm into your name.
Currently, I am listed to accept transfers from the following online gun brokers and working on getting added to more sites. If you have a favorite gun dealer that is not listed just let me know and I will get in contact with them to get set up.
GunBroker.com
Gunprime.com
Transferring a gun to Maumee Tackle is a very easy operation.
Wherever you buy the gun they are going to need a copy of our Federal Firearms License in order to ship the gun to us.
If we are not currently listed with that particular gun broker we can mail, e-mail, or fax them a copy of our license. They will then send the gun to us for you to pick up.
They will need to include 2 things with the gun.
A copy of their Federal Firearms License or a copy of their driver's license if not a dealer.
Your name and phone number.
After the gun has been processed into our system, we will call you to let you know that the gun is ready to be picked up. If you are tracking your transfer and it shows it has arrived that does not mean that it is ready to be picked up.
Please wait for us to call or you can come by 24 hours after your notification by the carrier.
To pick up the gun you will need a valid State photo ID/DL and will need to fill out a Federal Form 4473 for the background check. Once all of these are complete, and your background check is an approved, you can pay your transfer fee of $25 and take your gun home.
TRANSFERS WILL BE HELD FOR 90 DAYS UNLESS A LONGER TIME IS APPROVED IN WRITING. ANY GUN LEFT AFTER 90 DAYS WILL BECOME THE PROPERTY OF MAUMEE TACKLE.
Maumee Tackle is always ready to help you transfer a gun. If you need us to send a copy of our FFL to another dealer or person, we can make a copy of our FFL to send to them. You can always call and talk to any of our salespeople if you have questions about this process
FAQS
Can a gun be sent to my house?
No, all firearms must be sent to an FFL (federal firearms license) dealer.
Do I need to have a background check?
Yes, all firearms purchases require a federally mandated background check to be completed by the FFL dealer at the time the firearm is picked up, including in-store purchases.
Can I have the background check done before buying a gun?
No, the background check must be completed at the time the firearm is transferred from the FFL dealer to you.
Do I need to have a concealed carry permit?
No, you do not need a carry permit to purchase a gun.
Is it legal to buy a gun online?
Yes! It is entirely legal to purchase a firearm online, but the firearm must be shipped to a licensed FFL dealer.
Why does the firearm need to be shipped to an FFL?
The Gun Control Act of 1968 outlined new rules for selling and transferring firearms. As a result, it is now federal law to have all firearms shipped to an FFL dealer so the person the firearm is being transferred to can fill out the proper paperwork and complete the required background check.
Suggested Baits