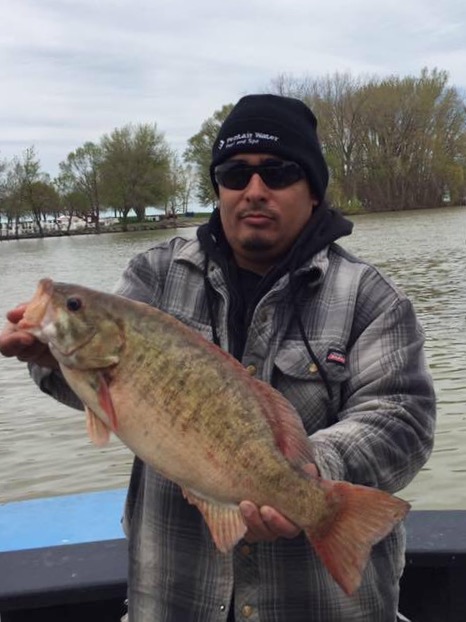 Water Level
579.5 wading to Bluegrass island is possible
Water Temperature
80 degrees
Barometric Pressure
29.76 inHg. rising
Maumee River
All access areas are available to fish. We have had good reports all week of catfish, some white bass and a bunch of walleye being caught. We are beingning to see some large smallmouth bass caught as well .
Late summer smallmouth structures found in the river are humps and rocky areas. Â These rocky outcroppings are almost always near cooler, deeper water, because smallmouths are less tolerant of heat than largemouths and slow their feeding activity when temperatures get much above 75 degrees. Another key feature: These summer hot spots are often rich with juvenile crawfish, a staple in the diet of smallmouths.
By late July-early August smallmouths are really tuned in to the crawfish, mostly because the crawfish are growing by shedding, or molting, their skin, and that puts them at the optimal size to feed on. I have read studies, and first hand experience, clearly indicates that smallmouths' summer feeding routines rely heavily on crayfish in the 1- to 2-inch range – roughly the size that young-of-the-year crayfish reach in July and August.
While a good number of fish prey on crayfish ,one  study found that more than 100 fish species eat them, smallmouth bass are notorious crawfish feeders .
Since crawfish are so important to smallmouths, it pays to know a little bit about them.
Here are five crawfish facts to keep in mind when looking for smallmouth hangouts:
• The one habitat requirement that all crawfish species share is the need for shelter in the form of rocks, logs or thick vegetation in which to hide from predators. Some crawfish species burrow in gravel bottoms.
• Crawfish can be found at a wide variety of depths, but generally spend their lives in 20 feet of water or less.
• Crawfish are most active at night, and smallmouth bass will feed on them during the peak of their activity in the low-light situations.
• Feeding studies of smallmouths indicate they begin to feed in earnest on crawfish only after their second or third year, meaning anglers are likely to find big, mature fish where there are crawfish.
• The optimal water-temperature range for crawfish is between 50 and 75 degrees.
Lake Erie
Surface Temp 77
Winds: SW 15-20 knots.
Waves 1 -3 feet,
Water Clarity: Good. Algae bloom continues to expanded some in density and range.
We have Emerald Shiners in stock.
We also have salted  and frozen shiners
Walleye Trolling:
Not much to report from yesterday as few ventured out but, Great reports from last few days prior. Fish coming from:
Inside from K Can down towards the Intake in 12~16 Feet of water
18~20 Feet of water from L Can west towards the intake.
Some nice fish around Crib reef and the Turnaround Buoy.
The undersized walleye(under 15 inches) are everywhere but it sounds like there is a much better mix of keeper fish than there has been in months.
Rattle Tots, Rattle Tots, and Crawlers harnesses all in the mix, even heard Bandits mentioned a few times lately.
Drifting
Crane Creek, towards the Intake in 14-16 Feet of water around the War buoy and around Crib reef. Crawler harnesses and bottom bouncers or casting weight forwards seem to be best.
Perch:
Still very inconsistent results, nothing sounds fast and furious at the time but they are pulling good fish. Most consistent reports coming from over around H and G Cans. Sounds like A can is producing again as well. Things have been spotty with some good days and some very slow. Seems like active fish are in small pockets.
Have Fun Be Safe and Good Luck Fishing
Suggested Baits