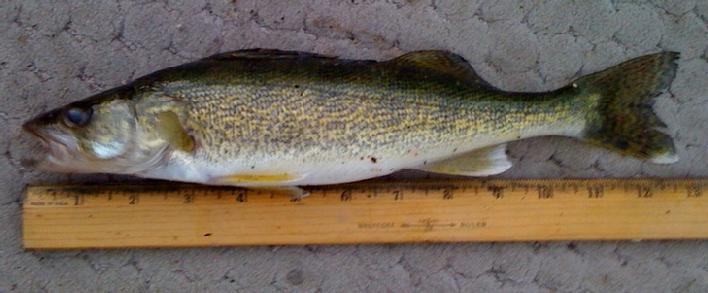 Water Level
581.5- wading to bluegrass is possible
Water Temperature
70 degrees
Barometric Pressure
29.87 inHg. falling
Maumee River
The water level continued to drop over night so we are at a level that allows access to all areas today. Â long the towpath we have had good reports of catfish and white perch still hittin pretty steady. Â Upriver the Grand Rapids bite has improved as well with good reports of crappie being caught above the dam and some saugeye below the dam.
Live bait fished near the bottom has been working particularly well – Nightcrawlers,  Minnows,  Leaf worms(same as red worms), Crawfish  and Leeches .
Lake Erie
Large numbers of these undersized walleye pictured above are being caught on Lake Erie- there are going lots of big healthy one next year.
The Drift and Trolling Bites for Walleye continue to be good
Surface Temp 68
Water Clarity Good with 2′ visibility in close and cleaner water farther out and to the NW.
We have EMERALD SHINERS
SW 10 ~ 15knot winds forecast for today….
Water Clarity is greatly improved and mud lines are more defined
Trolling
Reefs-Round, Cone, Crib and Locust are the hot spots according to reports. Sounds like whatever you like to run will catch fish right now. Â Bandits, Smithwicks, Bombers, Worm harnesses, Rattle Tots, and Flicker Minnows are also still pulling fish. Most are running 2.5 or faster.
Drifters:
Reports of good fishing around K and L Cans, Locust, Cone and Crib reefs. Crawler harnesses and bottom bouncers or casting weight forwards still seem to be the ticket, Lots of undersized walleye but still some good fishing.
Perch:
Reports have started to pick up and have gotten some good reports from A-Can, B Can and Niagara
Crappie:
Reports have died off, bite was pretty consistent but not fast and furious. The reports we have gotten are around dock posts in the marinas early morning  and later in the evening
Have Fun , Be Safe and Good Luck Fishing
.
Suggested Baits