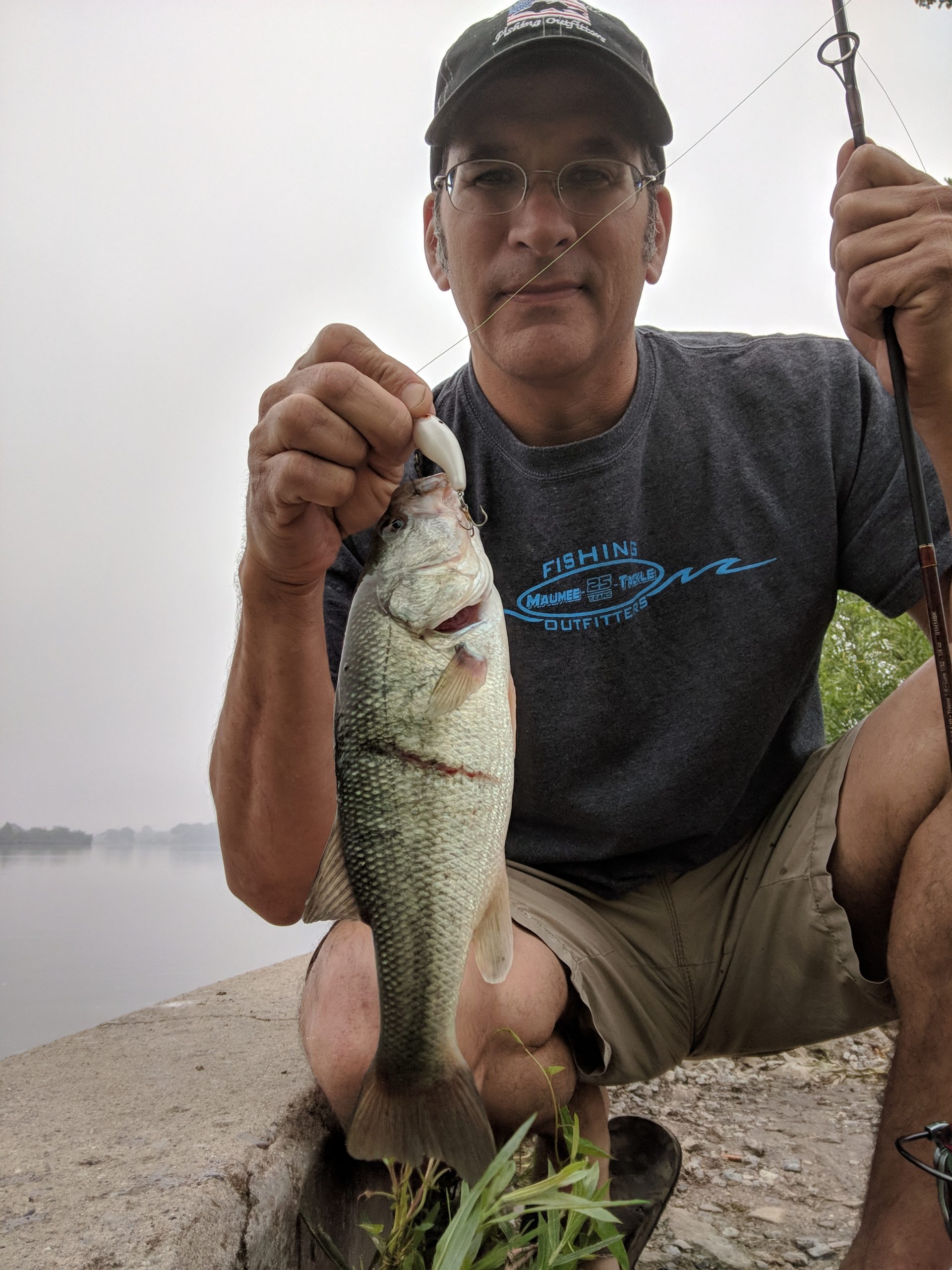 Barometric Pressure
29.89
Maumee River
With all the rain that hit the entire Midwest region in the last 24 hrs the river came up 2 feet pretty quick,and is running fast , so exercise caution when you head out.
Got this largemouth bass featured above on good old reliable Cotton Cordell Big O lure , down at Orleans Park
While the river level is high and running fast crappie will move to sheltered area fo get out of that high current. Places such as creeks , island eddys and canals. When the water drops in the next few days these crappie will still be in those areas and accessible.  The water will be muddied up so here are a few quick tips to having a successful trip to the river  when on the crappie hunt.
1. Muddy Water Shifts Crappie to Other Senses
Think of muddy water as a night with dense fog. Visibility is extremely limited. Just as ship captains must rely on radar rather than sight to navigate under such conditions, sight becomes of secondary importance to crappie. As visibility decreases, the fish increasingly rely on sound, vibrations and odor to find their meals. Therefore, the best enticements are lures that give off sounds or vibrations. That means live minnows, which produce scent, or lures enhanced with scent products.
2. Muddy Water Moves Crappie to Shallower Water
Muddy-water crappie are also likely to be in shallower habitats because oxygen levels are better where there's more plant growth, and crappie seem to feel more secure in these shallower haunts.
3. Muddy Water Pushes Crappie to Underwater Structure
Additionally, muddy-water crappie usually hold very tight against woody cover features. They're usually rubbing right up against snags, stumps and stick-ups. To catch them, try sliding a scent-tipped jig  maybe tip it with a waxworm or live minnow right down the wood, letting it touch the cover object as it descends.
4. Muddy Water Can Be Worth Fishing Anytime
Remember, too, that fishing for muddy-water crappie may actually be best on sunny days. Under other conditions, early morning and evening hours are best. But in silty waters, midday hours can be very productive.
Lake Erie
Water Temp: 70° F
7 mph ENE (112°)                            Gusting:     to 7 mph
Air Temp:  67° F                             
Water Clarity: Stained                    Visibility:   1-2 ft
 TODAY  East winds 15 to 25 knots becoming northeast. Waves 3 to  6 feet.
 TONIGHT  Northeast winds 15 to 25 knots becoming southeast.  Waves 3 to 6 feet subsiding to 1 to 3 feet.
Have fun , be safe and Good luck Fishing
Suggested Baits