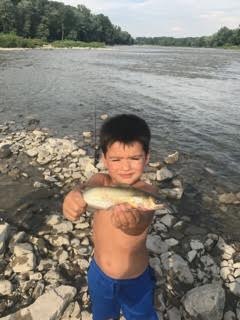 Water Level
581.0- wading to bluegrass is possible
Water Temperature
72 degrees
Barometric Pressure
29.87 inHg. falling
Maumee River
Still seeing lots of good catfish being caught, even with yesterdays wind we had good report. Lots of good  clean eating size being caught.  Hearing some good things from up at Grand Rapids , white bass , a few walleye and some catfish.  This upcoming weekend looks to be very good fishing especially with this rain  to cool the water and bring the flow up a bit.
 Lake Erie
Surface Temp 72
Winds:SW 15~20 knots
Waves 1 to 3 feet.forecast for today….
We do have Emerald Shiners in stock
Trolling
Fish being pulled right out front in 13~16 FOW and also out around 18 FOW…..
East of Locust, Round, Flat Rock, Crib, and Cone reefs, are still doing well. Sounds like whatever you like to run will catch fish right now. Jets and spoons, Taildancers, and Rattle Tots have been leading the field lately…. Dipsys and J-7's,Bandits, Reefs, Bombers, Worm harnesses, and Flicker Minnows are also still pulling fish. Most are running 2.6 or faster.
Drifting
Reports of good fishing out front, around K and L Cans, Locust, Flat Rock, Cone and Crib. Crawler harnesses and bottom bouncers or casting weight forward, Lots of shorts but still some good fishing.
Perch:
Sounds like a bite down off Minkies and the Intake is improving. A-Can, B Can and Niagara, still getting a few decent  reports .
Have Fune , Be Safe , and Good Luck Fishing.
Suggested Baits