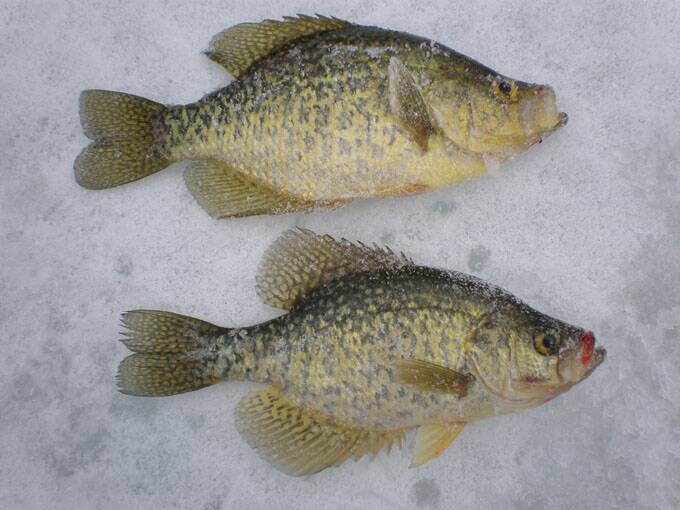 Barometric Pressure
30.09 inHg. steady
DO NOT ICE FISH ON THE MAUMEE RIVER. IFÂ  YOU FALL THROUGHÂ  THE CURRENT WILL PULL YOU UNDER THE ICEÂ  AND THATS IT.
Ponds and Lakes
Saftey Rules to follow:
Steer clear of dark spots or places where the snow looks discolored
Never fish alone
Tell someone where you are going and when you expect to return
Always test the ice with a spud
Take the appropriate emergency items, such as a lifejacket and ice picks
Take a cell phone with you in case you need to call for help
Dress in your warmest winter clothes; fill a thermos with hot coffee, chocolate or tea; and bring an empty bucket or old lawn chair to sit on.
Keep an eye out for dock bubblers or de-icers as the ice near these mechanisms will be unsafe. Always check the ice and be aware of your surroundings.
Ice fishing methods include "jigging" with short, light fishing rods and using tip-ups. There are many kinds of jigging poles and tip-ups.
Jigging involves the use of a jigging rod or hand line and a small jigging spoon or lure which is often tipped with a piece of bait, minnows , wax worms or spikes are most popular. The jig is designed to dart around in different directions when it is jerked up and down by the angler. The tip-up is basically a spool on a stick holding a baited line suspended through a hole in the ice. When the bait, usually a minnow, is taken by a fish, the pull on the line releases a signal, usually a red flag.
It's hard to imagine a group of rugged fishermen drinking coffee with their pinkies up , but ice fishing does have its own set of rules. Here are just a few of the dos and don'ts:
Be mindful of everyone's personal space. Don't drill a hole too close to another fisherman. Not only is it rude, but the lines can become entangled and both of you can wind up going home with empty buckets.
Keep the noise level down. Even if you paid extra for satellite TV and a fancy stereo system, your neighbors and the fish might not want to hear them.
Keep pets on a leash. Fido can fall down a very cold, very wet hole if you let him run free on the ice.
Watch children. The ice is far too dangerous a place for an unattended child.
Mark your holes. Put a large branch or other marker in the holes you leave behind, so the next fisherman who passes by doesn't fall in.
Clean up after yourself. Leave the ice just as you found it — trash-free.
We have  minnows, wax worms, spikes in stock.
Have fun be safe and good luck fishing
Suggested Baits