Maumee River
LEVEL-580.6
TEMP- 59.0 Â degrees
Barometer: 30.02 and falling
Wading to Bluegrass Island is possible
Clarity-6 inches
Sunrise : 6:47 AM (First cast)
Sunset: 8:20 PM (Last cast)
We saw many limits yesterday as the rain and storms held off til late afternoon, even then we had some anglers head out after the storms passed and get their limits of walleye just before last cast. By the way sunrise to sunset fishing only is still in effect until May 1st. With the loer water limits were mainly taken from Bluegrass island , Buttonwood park,and Jerome Rd rapids areas. We did here of a few taken at Orleans park but you have to wade waaay out there to get to that deeper moving water. with today's nearly identical conditions and chance of storms later those same areas would be the best to try. Most anglers yesterday also reported multilpe species being caught , catfish, white bass, smallmouth bass, walleye and the everpresent sucker..oh yea some good crappie taken as well.
Weight:1/2-5/8 oz
Leader:24-36 inches
Colors: Start trying the smaller heads- green head/Green sparkle Tail – orange head / xmas lights tail – orangehead /sunkissed orange tail – red head/White tail
Lake Erie
Walleye fishing has improved over the past week. Fishing with jigs has been productive on the reefs north of the Camp Perry firing range and nearshore from Turtle Creek to "K" can of the Camp Perry firing range. Walleye have been caught by trolling near the eastern buoys of the Camp Perry firing range and west of North Bass Island near West Reef. Most fish were caught by trolling with crankbaits or by jigging with purple hair jigs.
The Lake Erie water temperature is 51 off Toledo and 45 off Cleveland according to the nearshore marine forecast
Weather Report
Thursday Showers and thunderstorms likely, mainly after 4pm. Mostly cloudy, with a high near 77. Breezy, with an east wind 8 to 13 mph becoming southwest 15 to 20 mph in the afternoon.
Thursday Night Showers and thunderstorms before 3am, then a slight chance of showers. Low around 44. West wind 11 to 17 mph. Chance of precipitation is 80%.
Friday Partly sunny, with a high near 55. West wind around 15 mph.
Have Fun Be safe and Good LucK Fishing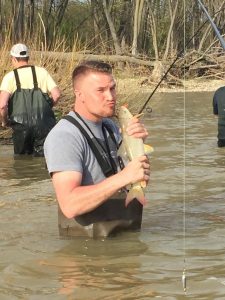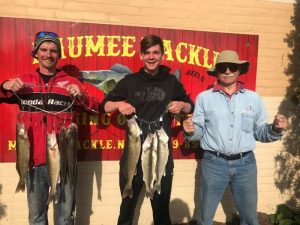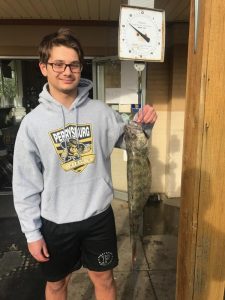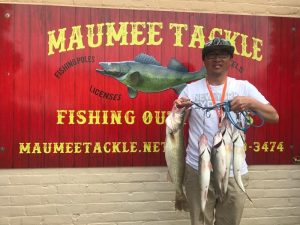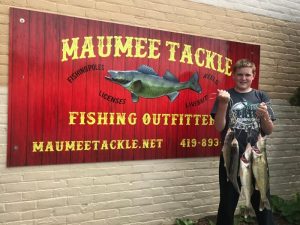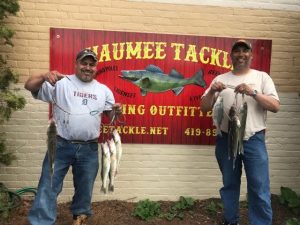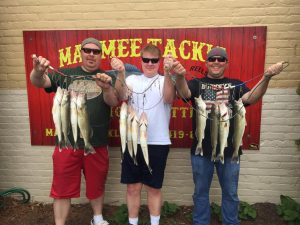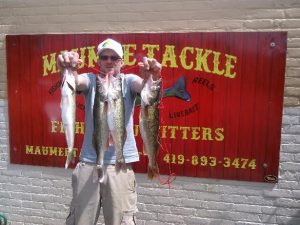 Suggested Baits