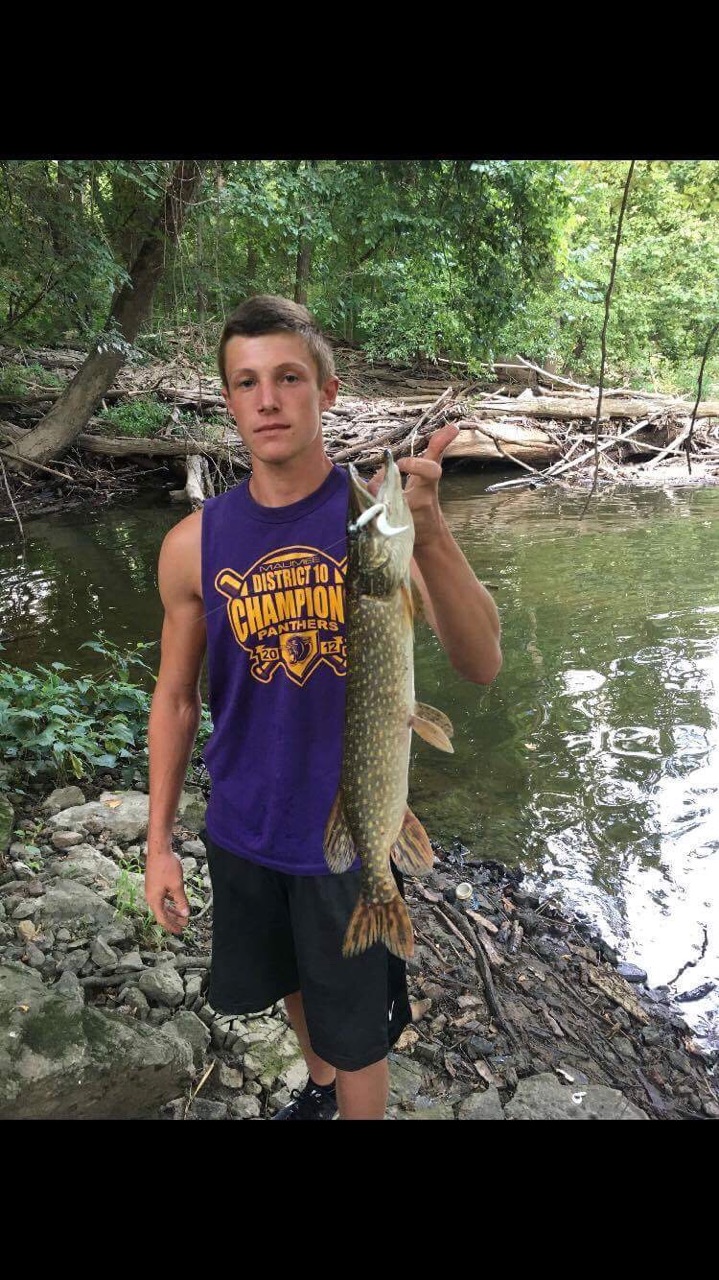 Water Level
579.5 wading to Bluegrass island is possible
Water Temperature
78 degrees
Barometric Pressure
30.08 in and steady
Maumee River
Lots of action on the Maumee River as you can see by this beautiful northern pike taken the other day by master angler Austin Pauken.
*Feel free to keep emailing  us your fishing photos at-    maumeetackle@gmail.com   -we love posting your catches*
We are still seeing multiple species being caught every day up and down the river- crappie, largemouth bass, smallmouth bass, gar, buffalo carp, catfish , walleye and white bass were all reported caught this weekend.  A variety of baits are working from old reliable nightcrawlers  and waxworms to chatterbaits, kellys rubber worms , plastic craws and all sorts of things. It has been a very good summer for fishing and it really doesn't show any signs of slowing down. Stop in the shop and we can point you in the right direction for what ever fish you are looking to target.
Lake Erie
Surface Temp 77
Winds: SW 5-10 knots.
Waves 1 -2 feet,
Water Clarity: Good. Algae bloom continues to expanded some in density and range.
We have Emerald Shiners in the store….
We also have Frozen Emerald Shiners in stock
.
Walleye Trollers:
Not much to report from yesterday as few ventured out but, Great reports from last few days prior. Fish coming from:
Inside from K Can down towards the Intake in 12~16 Feet of water
18~20 Feet of water from L Can west towards the intake.
Some nice fish around Crib reef and the Turnaround Buoy.
The undersized walleye are everywhere but it sounds like there is a much better mix of nice fish now than there has been in quite a while.
Drifters:
Crane Creek, towards the Intake in 14-16 Feet of water, around the War buoy and around Crib reef. Crawler harnesses and bottom bouncers or casting weight forwards Lots of shorts but still some good fishing.
Perch:
Still inconsistent results, nothing sounds fast and furious at the time but they are pulling good fish. Most Consistent reports coming from over around H and G Cans. Sounds like A can is producing again as well. Things have been spotty with some good days and some very slow.
Have Fun , Be Safe and Good Luck Fishing
Suggested Baits