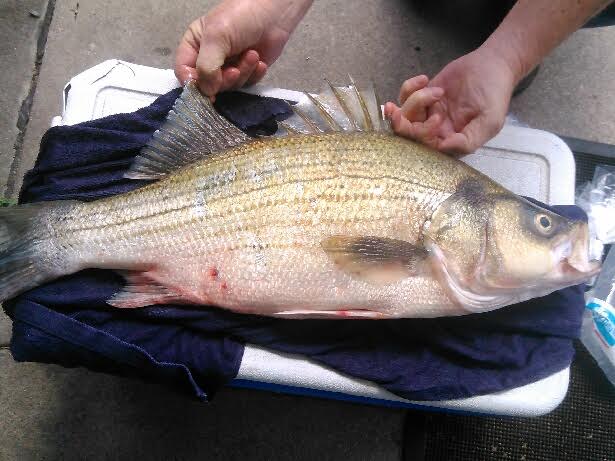 Water Level
581.5- wading to bluegrass is possible
Water Temperature
72 degrees
Barometric Pressure
30.05 inHg. rising
Maumee River
Take a look at the featured image – (and yes that's a full sized cooler that this fish  is laying on)-just goes to show that you never know what is going to be pulled out of the river.  Near as we could tell when he brought it into the shop this is a really big hybrid striped bass. These hybrids are voracious feeders and can put on weight and size very quickly. When released into farm ponds these bass take over quickly .
The fresh rain and cooler temps over the weekend helped spark some activity thought the river . We had good reports of catfish , some white bass and small mouth being caught in several locations. And a few of those resident walleye were caught as well. Â The next few days should be clear and cool . With the water level up to near normal, Â the fishing ought to be very good this week.
As the air temperature cools from a cold front, the surface temperature of the water will also begin to cool. This will force fish in shallow water to seek holding areas in deeper water where the temperature will be warmer. Sometimes smaller baits can be they key, too. If you normally catch fish on a 10-inch Berkley PowerBait Power Worm, try a 7-inch worm; same goes for stick- and creature-style baits. Being cold blooded the body temperature of fish is regulated by its environment. As the water cools big meals aren't needed, but a easy meal – one that won't require much work to capture or consume – is always welcome. Don't overlook tight cover, either. Bushes, root balls, dock pilings, logs and rock can sometimes draw in large numbers of bass. They will huddle in these protected areas where the water temps are more stable.
Lake Erie
Surface Temp 73
Winds: W 10~15 knots building to 15~20
Waves 1 to 3 feet building to 2 to 4 feet forecast for today
Water Clarity: Good
We have Emerald shiners in stock
Trolling
Limited reports last few days with the poor conditions. Fish being pulled right out front in 13~16 feet of water and also out around 18 feet of water, toh=gh fishing but those that ventured out did well
East of Locust, Round, Flat Rock, Crib, and Cone reefs, are still doing well.
Drifting
Reports of good fishing out around K and L Cans, Locust, Flat Rock, Cone and Crib reefs. Crawler harnesses and bottom bouncers or casting weight forwards still is working well, Lots of short undersized fish.
Perch
Reports still slow to come in. Have gotten some good word from A-Can, B Can and Niagara, still not hearing of limits but some decent catches.
Perch spreaders with shiners fished near the bottom produce the most fish.
Have Fun , Be Safe , and Good Luck Fishing
Suggested Baits