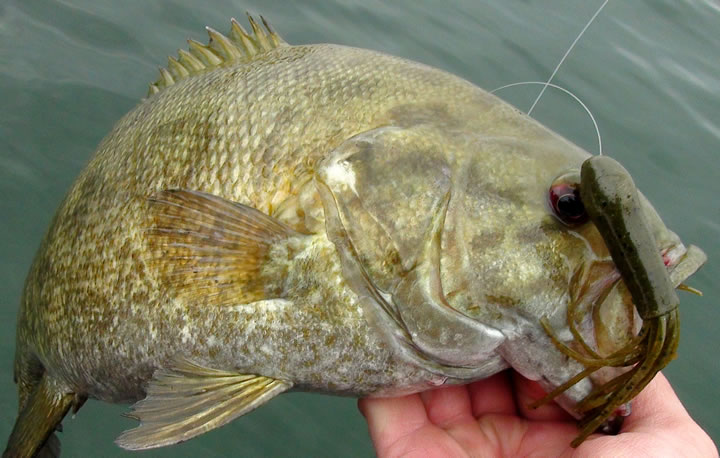 Water Level
579 wading to bluegrass is possible
Barometric Pressure
29.86 in
Maumee River
Still seeing  good smallmouth bass action on the river. Stick to the same warm-water principle as before, looking for shallower waters is often a smart practice for fall bass fishing. Shallow waters will warm faster, so bass will swim out of the deep spots and into the shallow areas, usually spots that are three to five feet deep.
STEEP LEDGES AND DROP OFFS
Bass love the shallow waters in fall, but they also want to be near deeper waters, which can hold available food. Areas that have a shallow spot with a steep ledge nearby will produce some of the best bass fishing in the fall. Try to identify some of the  steep drop offs, and then use crankbaits to run a lure along the ledge.
SPEED UP YOUR RETRIEVE
During the the hot days of summer, bass will slow down their activity to conserve energy, so slowing down your retrieve is often a good technique. The fall, however, calls for a faster retrieve. This will give the lure more action, attracting the attention of bass, who have lots of feeding options in the fall. Bass are going to be more aggressive in the fall, so you really don't have to worry about losing one because your retrieve was too fast.
STOCK UP ON CRANK BAITS
Crankbaits are a great choice for catching fall bass. They resemble the fish that bass eat in the fall, especially wide-bodies shad, and they give off plenty of noise and vibrations, attracting the attention of aggressive bass from yards away. Crankbaits can be difficult to use in the summer, when weeds get caught on the numerous hooks, but these weeds recede in the fall, opening up the waters for a rattling crankbait.
REMEMBER: BASS SCHOOL IN THE FALL
Most seasons, bass don't school together, so when you catch one it's best to move on to a different spot. Throw that piece of wisdom out in the fall. Bass will actually congregate together during the autumn, so when you catch one, continue to hit that spot and you'll likely catch another.
Lake Erie
Surface Temp 67
Winds: S 8 mph
Waves 0 ~ 1 feet
Water Clarity: Fair~ Algae continues to linger.
Forecast for the weekend is looking better and better.
FULLY STOCKED WITH EMERALD SHINERS…
Walleye:
good bite out around Crane Reef and to the west from there a bit. Trolling Rattle Tots and Bandits
There is also a casting bite in close out front and on most of the reefs going on most are throwing spinners and crawlers and some cranks…
Rattle Tots were leading the way, but the Bandits, Jets and spoons, Taildancers, and Crawlers harnesses all in the mix.
Perch:
Some Great Reports yesterday NW of W Sister Island, NW of A Can, and D Can. Out between A & B Cans, Picket Fence, Flat Rock, and Crib Reefs have been producing as well..
Have Fun Be Safe and Good Luck Fishing
Suggested Baits