Maumee River
LEVEL-581.6
TEMP- 64.0 Â degrees
Barometer: 29.50 and falling
Wading to Bluegrass Island is possible
Clarity-8 inches
Sunrise : 6:37 AM (First cast)
Sunset: 8:27 PM (Last cast)
No real changes in conditions the last 4-5 days. Still seeing a few limits of walleye, great thing to see, and numerous singles and doubles. As the water warms the white bass are steadily moving in and its only going to get better if we get some rain to get the river "freshened up" so to speak. But right now the water clarity is good and we have seen all sorts of fish cought out there, walleye, white bass, rock bass, sauger, white perch, catfish , carp, and a few gar. So that's pretty exciting when you can go out and get some suprise species on the hook.
Weight:1/2-5/8 oz
Leader:24-36 inches
Colors: black head/Shimmer shad tail( got limits 2 days in arow with this combo) Orange head / yellow tail – white head /baby bass tail – red head/ pink tail
Weather Report
Today A slight chance of showers and thunderstorms, mainly before 1pm. Mostly cloudy, with a high near 70. South wind 11 to 18 mph, with gusts as high as 30 mph.
Tonight Mostly cloudy, with a low around 47. West wind 7 to 16 mph.
Friday A slight chance of showers after 2pm. Mostly cloudy, with a high near 67. South wind 6 to 11 mph becoming west in the afternoon.

HERE IS THE UPDATE FROM THE OHIO DNR REGARDING THE SUMMER OUTLOOK AND LIMIT CHANGES EFFECTIVE MAY 1ST – WALLEYE LIMIT WILL BE 6 PER ANGLER
"Lake Erie walleye and yellow perch fisheries are managed through an interagency quota system that involves Ontario, Michigan, Pennsylvania, New York and Ohio. Each jurisdiction regulates its catches to comply with quotas and minimize the risk of over-fishing these species. Quotas for the upcoming fishing season are determined through consensus agreement by these jurisdictions through the Lake Erie Committee of the Great Lakes Fishery Commission, which were just recently announced for 2017.
Currently, the walleye daily bag limit is four, and the yellow perch daily bag limit is 30 per angler in Ohio waters of Lake Erie until April 30. As a result of the 2017 quota allocation, the daily bag limit will be six walleye from May 1 through Feb. 28, 2018. From March 1, 2018, through April 30, 2018, the daily walleye bag limit will be four. A 15-inch minimum size limit is in effect during the entire season for walleye. The yellow perch daily bag limit will be 30 from May 1 through April 30, 2018, with no minimum size limit. Lake Erie anglers can find walleye and yellow perch bag limit information at ODNR offices, in special publications at bait and tackle shops and at wildohio.gov.
Walleye
Ohio walleye anglers will catch fish mostly from the 2015, 2014 and 2013 hatches, with some fish from the 2012, 2011, 2010 and 2009 year classes. Additional fish from 2007 and 2003 will also be harvested by anglers. Walleye from the 2014 hatch will range from 16-19 inches, while walleye from the 2013 hatch will be between 17-22 inches. Fish from the 2003 and 2007 hatches are likely to carry most of the Central Basin fisheries, and a good number of these walleye will be over the 26-inch range. Large walleye from strong hatch in 2003 will continue to provide "Fish Ohio" opportunities (greater than 28 inches), with this year class nearing the size that may give Ohio a new state record walleye. Additionally, in 2017, anglers should see a number of smaller (less than 15 inches) fish from the excellent 2015 hatch. Anglers are reminded of the 15-inch minimum size limit and encouraged to release these fish with as little handling as possible so they can contribute to the fisheries in future years. As the 2017 season progresses, more of the 2-year-old fish will surpass the 15-inch minimum size limit.
Yellow Perch
Expect excellent perch fishing in 2017, with improving numbers of fish in the Western Basin. Perch anglers in the west will primarily catch perch from 2013, 2014 and 2015, providing a good range of sizes. The largest perch in the Western Basin will come from 2012 and older year classes. Central Basin anglers should expect to find average numbers of yellow perch, with most fish coming from the 2012 year class and to a lesser extent, the 2014 year class. Older fish from years prior to 2012 will provide the potential for trophy yellow perch."
Have Fun Be safe and Good Luck Fishing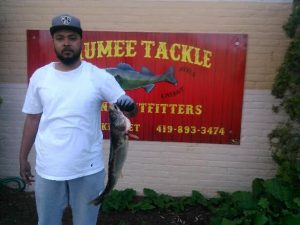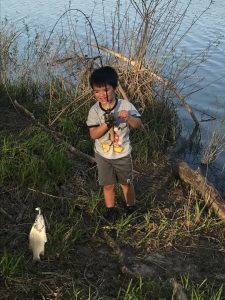 Suggested Baits