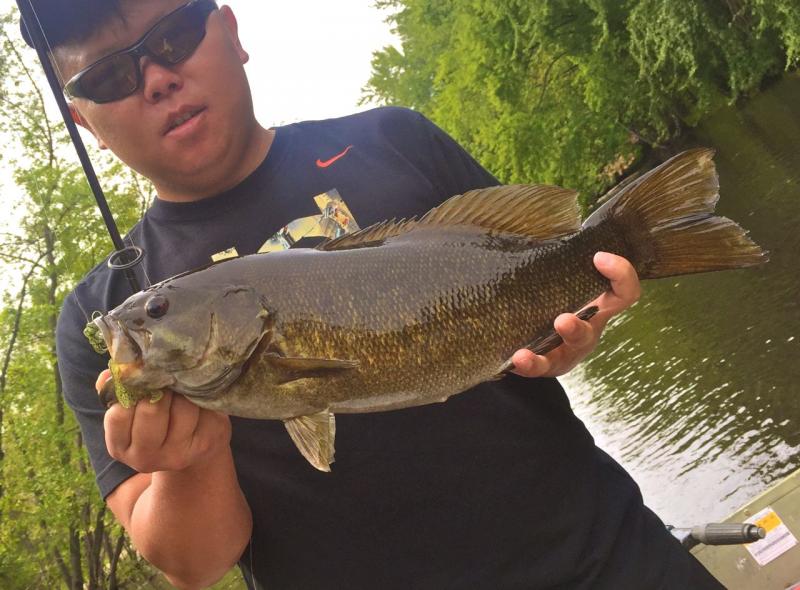 Barometric Pressure
30.11 inHg. steady
Maumee River
Catfish bite is hot-Night crawlers, shad being the preferred bait. Any where just pick a spot on the river and chances are that you will get into some.
Not much crappie action right now , all the local pond and crappie lakes are too hot–they have been inactive. As soon as the nights begin to cool the crappie will wake up.
While August can be tough and hot here in Ohio, the fishing can still be awesome The fish have finished spawning and feeding heavily. This is my favorite time to fish for smallmouth bass with crawfish imitating lures. Working some of the deeper pools/holes can be very productive.
HEAD OF THE RIVER POOL
Drift your bait through the boulders in fast current, down to where the bottom drops quickly to deeper water.As long as the sun is on the water, smallmouths remain deep, at the heads of pools and close to structure. Pick a bait (Â small crayfish, minnow, cricket, or crawler–in that order) or lead-headed plastic, and cast to the head of the pool. If you're flyfishing, toss a weighted nymph or Clouser streamer. Let the bait or nymph drift back with the flow; it should wash through the shade of the boulders.
MIDPOOL
Bass leave the cover of deep water near the bank to feed in the main flows.- Near Sunset-As light leaves the water, bass move out from cover and into the main flows. Fish live bait with less weight. Cast and retrieve plastics, and add crayfish-patterned crankbaits and spinners to the repertoire. Flyfishermen can try casting Woolly Buggers across stream, being prepared for a strike on the swing.
TAIL OF THEÂ  RIVER POOL
As the sun sets, bass move to the surface or feed in the shallows.
Fish the Surface
Smallmouth streams come to life in the twilights of summer. Bass move farther from cover, into midstream riffles and associated current seams or the tails of river poolspools. Spinfishermen can turn to floating Rapalas and Pop-Rs. Fly anglers should consider a White Wulff, a good imitation of the cream-colored mayflies that hatch during summer evenings. Deer-hair bugs and traditional cork poppers also work.
Lake Erie
*click on images to enlarge*
Walleye and Perch bite remains great.
Walleye-
Crawler harnesses,  bandits and perfect 10s are working well–color doesnt much matter as much as trolling speed.  2.5 mph is a good speed to target.  Best reports have been out near A and B can.
Perch-
Spreaders with minnows, Just east of the Intake and out near the lighthouse have been productive.
Have fun be safe and good luck fishing
Suggested Baits