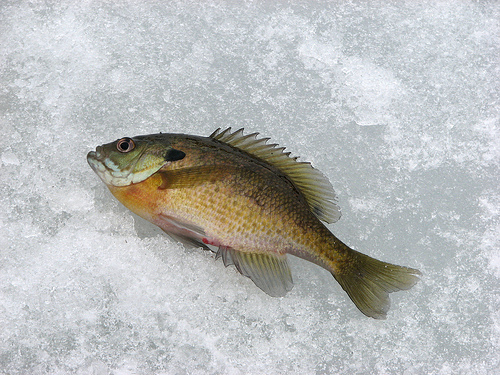 Water Temperature
32 degrees
Barometric Pressure
30.48
Water Clarity
zero-frozen
WE ARE FULLY STOCKED WITH LAKE ERIE EMERALD SHINERS-WAXWORMS AND SPIKES–WORMS TOO!
Ice fishermen-Anglers are cautioned to follow safety protocols: never fish alone, wear your personal flotation device and make sure the ice is thick enough.
Some tips for once lake Erie freezes over:
Arrive early and be quiet!
Early ice fishing trips often occur on a few inches of ice, and often that ice is clear and not completely snow-covered. Plus, lots of the good early ice walleye action often occurs in shallow to mid-depth waters. For those reasons, it is a good idea to get to your fishing spot early, get your equipment set up, and get fishing holes drilled well before you expect the good fishing action to start.
Often, the best winter bite occurs at dusk – say around 4:30 pm to 6:00 pm – and so I like to be all set up and ready by 4:00 pm to minimize the risk of spooking any early biters that show up. Also, being well organized with your gear so your movements can be limited when the fish are biting is another useful tip. Banging equipment on the ice and doing lots of moving around are good ways to spook early ice walleyes, so being set up and well organized will usually increase the number of walleyes that come top-side during this period!
Jig, jig, and jig!
Early ice walleyes are often still aggressive and can be "called in" and triggered to bite using aggressive jigging approaches. The 1/8-ounce Buck shot rattle spoon has put lots of early ice walleyes on the ice for me over the years. The thumping and clicking properties of this bait do an excellent job of calling in aggressive early season walleyes.
HAVE FUN BE SAFE AND GOOD LUCK FISHING.
Suggested Baits