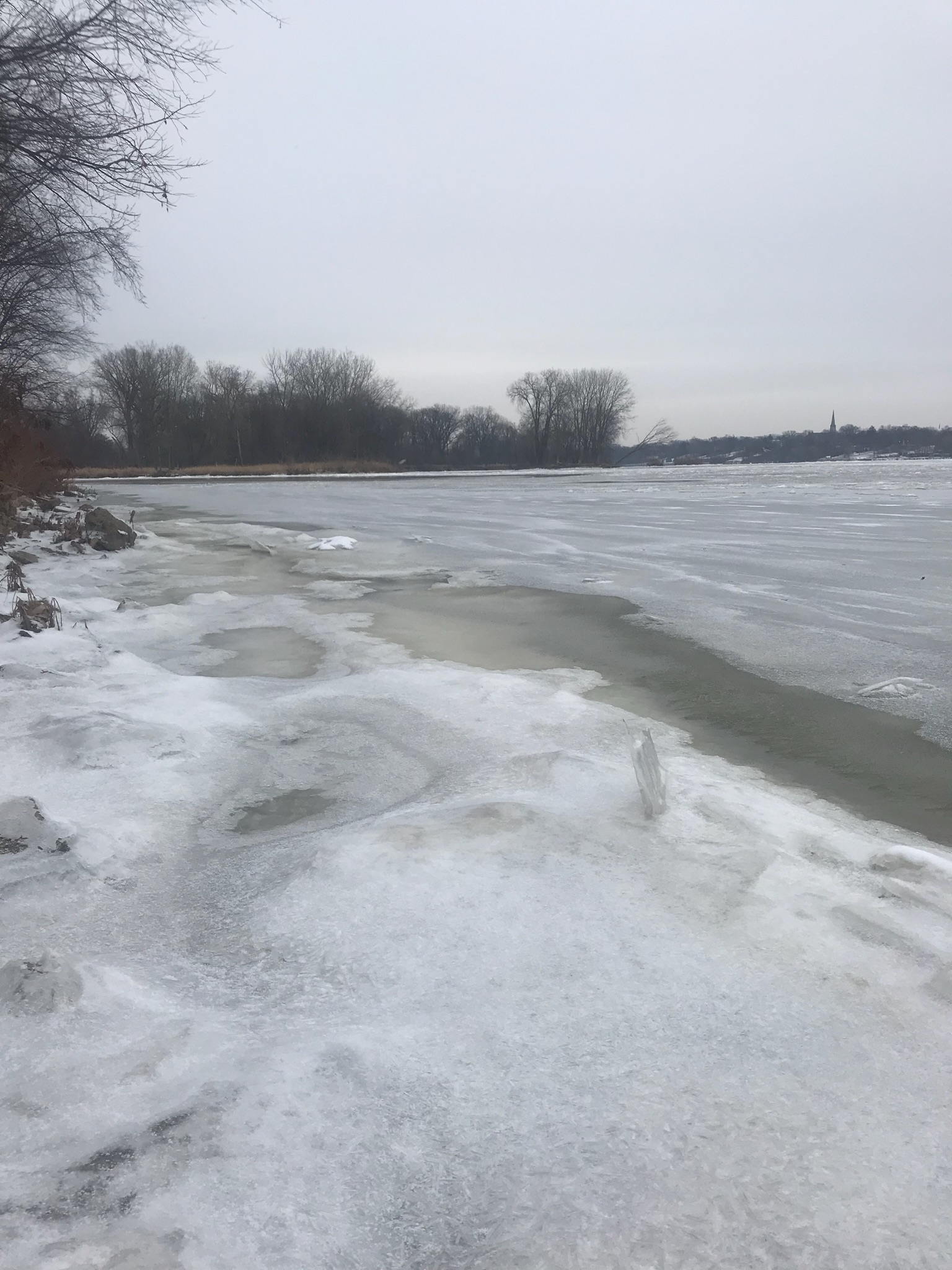 Water Temperature
32 degrees-
Barometric Pressure
29.78 in
Maumee River
The river, pictured above, has a good skin of ice which bods well for the ice fishing season.  Most of the local ponds and reservoirs also have developed a layer of ice and should be fishable in a week or so depending on nighttime temps.
Early season ice, which has formed on a windless night, is usually clear, hard and transparent, actually blank looking and smooth as glass.  Thickness for thickness, this is the strongest and safest ice of the season; two inches of such ice will hold small groups of four to five people with safety.  However, such ice is usually found in small sheltered wood ponds or in the shallow coves of a lake, and in these localities it is very important to watch out for thin spots or open water around the mouth of small streams flowing into it or even underwater springs that feed the lake from the bottom.
Never Go Out Alone 
Probably the most important thing to remember in connection with ice sports, is that one should never go out alone.  Always have some buddies with you whether they actually fish with you or not.  Also have some safety appliances handy; hunt up a good stout pole or a long plank, not too heavy to handle, and place them on the ice near the shore where they can readily be had if needed.  It is easier to obtain such things at your leisure in advance, than it is to locate them in the stress of an emergency.  A coil of light rope is without doubt the best and most practical safety outfit for ice use, and its negligible weight and bulk makes it possible for several members of the party to be so equipped.  It is far better to carry such equipment many times when it is not needed, and even to stand a few digs about over-cautiousness, than to be without it and bungle a rescue.
Lures-Ice Rods and Lots of  Equipment in stock.
We are fully stocked with all your ice fishing needs.
Spoons, jigs, ice line 2-8 lb mono and braid, Swedish pimples, tungston jigs, panfish jigs, spring bobbers, ice scoopers and much more!
Lake Erie
Good news for Ice Fishermen- The western basin( shallowest part of Lake Erie) has dropped to right around freezing . So as long as these temps hold we should see some lake ice begin to develop.
Surface Temp 34
NW wind 20-30 knots
Waves 4 – 7
Water Clarity: Will be Mudded up bad with these winds.
Crappie:
Fishing has still been good  in local creek channels in the area if you can find open water.
Walleye:
Wicked winds and cold has slowed the activity down mostly on the anglers side. If the weather permits, the fishing is probably going to still be great.
Night bite out front, at Lakeside, & Huron has been awesome. Casting the reefs, Rip Rap, Piers, and shorelines has been producing early, late and at night (Ripsticks, Smithwick Perfect 10's, and shallow bill cranks)
A very good trolling bite from Crane Creek to Huron, out around the reef complex
Steelhead are in the area and right up on the rocks within casting distance. Throw stuff with a metalic finish toet some reflection, Shallow billed crankbaits and Spoons would be a good start.
Have fun, be safe and good luck fishing.
Suggested Baits