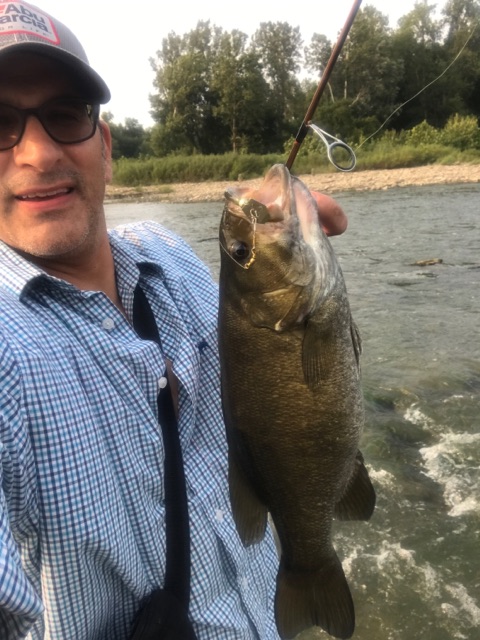 Water Level
579.5 wading to Bluegrass island is possible
Water Temperature
69 degrees
Barometric Pressure
29.92 inHg. and rising
Maumee River
Wow the action was very good all Labor Day weekend. We saw consistent catches of catfish of all sizes in all locations up and down the river from Grand Rapids area all the way to downtown Toledo and there is really no sign of the catfish bite slowing . Any kind of live bait seeems to be working best , hook up a juicy nightcrawler and it shouldnt take long at all to get a bite. The bigger smallmouth bass are also on the move in the river , for several days in a row I hit a few 1- 3 pounders  just off the break of any faster water/rapids.  Minnow replicating crank-baits, tube jigs and chatter-baits are working very well right now. Also there are one or two white bass being caught as well.
Pond and lake fishermen are starting to hit a few cool weather crappie and bluegill-wax worm and leaf worms are the preferred bait right.
Lake Erie
Surface Temp 69
TODAY…Northwest winds 5 to 10 knots becoming west.A chance of showers with isolated thunderstorms…
mainly from late morning on. Waves 2 feet or less.
TONIGHT…West winds 5 to 15 knots becoming northwest.A chance of showers. Waves 2 feet or less.
Walleye:
Inside from the power plant down towards the Intake in 8-18 feet of water, still holding fish. Out around the Turnaround Buoy and NW of the Island again, some good word around Niagara and Crib reef.
Seems to be a better class of fish in the area now with fewer shorts.
Rattle Tots are leading the way, but the Bandits are being mentioned more and more again. Jets and spoons, Taildancers, and Crawlers harnesses all in the mix.
Perch:
Most reports since the weather hit have not been good. Hopefully this stretch of good weather coming will get them back on.
Best reports lately were F and D cans. NW of A Can, B Can, Big Pick, and Cone Reefs. H and G Cans have been producing as well, but the weekend weather slowed things down.
Have Fun, Be Safe and Good Luck Fishing
Suggested Baits