LEVEL-581.0
TEMP- 59.0 Â degrees
Barometer: 30.05 and steady
Wading to Bluegrass Island is possible
Clarity-8 inches
Sunrise : 6:44 AM (First cast)
Sunset: 8:24 PM (Last cast)
TODAY BEGINS THE FIRST ANNUAL WALLEYE PERRYSBURG -MAUMEE WALLEYE FESTIVEL TOURNAMENT-RUNS ALL WEEK -LONGEST FISH WINS-OPEN TO ALL PERRYS BURG AND MAUMEE RESIDENTS- SEE DETAILS BELOW
The bite this weekend was on in the early morning and in the late evening, the midday bite was very slow . With similar conditions we anticipate the same today . While the peak of the spawn has past us we have still seen full hard females caught over the weekend so that is encouraging that we may still have some walleye run time ahead of us. In a year when conditions are just right, the post-spawn bite can be fabulous. After eating practically nothing during the spawning period, the fish are very hungry, as evidenced by their sunken bellies. The previous year's baitfish hatch has been whittled down and the current year's hatch has yet to occur, so food availability is at an annual low. On a good day, walleyes seem to be constantly on the prowl, and begin hit baits with energy. In addition as the water clears its time to break out those fly rods and hunt those hungry walleye with a different approach. Walleye are real minnow, crayfish and leech eaters so small flies are seldom used. In the Maumee, fast sinking flies like Clouser Minnows do very well in chartreuse and white, or black, natural minnow colors. Wooly Buggers in similar colors will also take walleye. The sink rate of the fly line may be the most important consideration in fly-fishing for walleye. In the shallows, a floating or intermediate fly line is best since retrieves are done slowly so the weighted fly stays close to the bottom most of the time. Stop in and vist our fly fishing depart ment i think yoyu will be suprised at how affordable and easy it is to get set up and get out there fly fishin for walleye
We had a great time at the Perrysburg vs. Maumee Tournament with the Perrysburg team bring home the Big Trophy and bragging rights , below are a few pictures from the event.
Weight:1/2-5/8 oz
Leader:24-36 inches
Colors: black head/rocket red Tail – orange head / watermelon red flake tail – blackhead /baby bass( kinda bass skin looking) tail – red head/White tail
LAKE ERIE
Trollers:
Bite has been consistent and producing some great catches, even when the conditions are not great. Pockets of cleaner water and mud lines are giving up a lot of fish.
K Can and area around Locus seem to be the hot bed lately, Contour lines off Crane Creek to the intake, as well as F and G cans have all produced. Look for mud lines as the water clarity continues to improve.
Drifters/Jiggers:
Reports of limits being pulled right out in front of Turtle Creek, Wild Wings Channel and K Can.
Most reports are fast two or three drift limits, but you have to work for them at times.
Crib reef, Toussaint, Turtle, and Locust also good areas, work them slow with hair jigs.
Perch:
Reports have been slow to come in but what we have gotten have been mostly at A-Can
Weather Report
Today Sunny, with a high near 66. Northeast wind 5 to 14 mph.
Tonight Partly cloudy, with a low around 48. East wind 6 to 11 mph.
Tuesday Partly sunny, with a high near 72. Southeast wind 5 to 9 mph.
Have Fun Be safe and Good Luck Fishing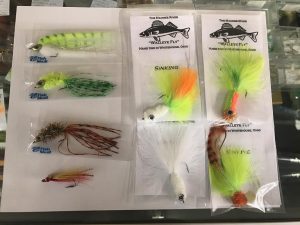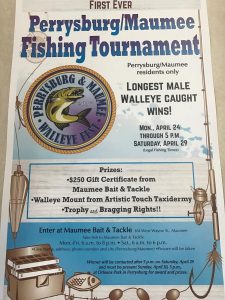 Suggested Baits