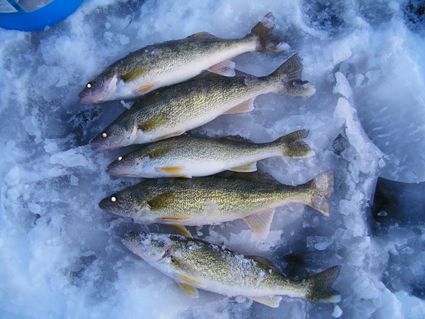 Barometric Pressure
30.44 inHg. rising
*Today is the first day that the new 2019 fishing licenses are available. Your old license is good til Feb 28th.*
Out on the river we are still seeing lots of winter debris and ice chunks. The ice along the banks in some places is beginning to clear away so after a few warm days and some rain we will see what kind of shape we are in. I looked back at past reports and this time last year the water was right at that 40 degree mark up and running with all the ice gone..not so much this year. But we are stocked up and ready as soon as mother nature gives us the go ahead.  As the days are getting longer and slightly warmer  the river will edge closer to that 40 degree mark and we can start looking for some early runners.
In the meantime I still have ice gear out for those looking for the tail end of the season odds and ends. Also I am filly stocked up and waxworms and spikes, minnows too. 
We are all stocked back up on all of our reels -Shimano- Diawa- Pfluger- Abu Garcia- and a few Okumas. 
I wanted to reiterate some events and dates we have for 2019
A reminder that the Maumee river is formed at the confluence of the St Jospeh and St Mary  rivers, at Ft Wayne, IN and meanders northeast ward for 137 miles  through an mostly agricultural region ,before flowing into the Maumee Bay of Lake Erie. So when The Ft Wayne area gets significant weather in one form or another the river levels and temps are affected here in Maumee/Toledo area.
Starting that first week of March we will be doing our weekly BIG JACK contest.  
PRIZE IS $25 GIFT CERTIFICATE FOR THE WEEKÂ  AND MONTHLY BIG JACK GETS 50$ gift certificate.
  Jacks ( males)only , caught in Maumee river, free of snag marks, heaviest wins.
Even if you dont have a big jack bring your catch up  to the shop and we will weigh , measure and take your photo.  Even if its after hours we have a scale hanging on a post out front always available for use.
THE HUNT FOR WHITE BASS STATE RECORD
So the current record for the state of Ohio White Bass is 4 lbs 21 inches caught July 1 ,1983 by Ira Sizemore in Cincinnati,OH.  I say good for Mr. Sizemore but after 35 years its time for a new state record right here out of the Maumee River.  Now 4 lbs is a BIG White Bass! But I know that in the spring when a zillion White Bass come up the Maumee to spawn, big, fat and full of eggs, that there has to be one over that 4 lb mark. I have seen some big bass caught in April and May , definitely around the 3lb plus mark,  but no one ever puts them on a scale, well that's about to change. Several months ago I asked the Lucas county auditors office to come in and certify my scales here at the shop. They did, so now our scales are certified to record a state record.
This is what I am proposing: Start bringing in those big White Bass to be weighed and measured. When that lucky angler beats the state record we will weigh, certify, serve as witness and help the angler fill out the application.  We will call the news as well to make you famous.  When the record is officially beaten then Maumee Tackle Fishing Outfitters will pay for the fish to be mounted,(I will probably get a replica as well for the shop), and the new record holder will receive a $500 gift certificate to Maumee Tackle. There are numerous rules to certifying a state record-one of them being that the fish will have to be turned over to state certification officials for inspection – first and formost to verify the species and to prevent cheaters from turning in a tank raised fish or one full of sinkers etc. Record fish are determined on the basis of weight only.
In order to qualify for the prizes the whole process starting from the weigh in of a  fish  to the photo ops of the record,  must be done here at the shop in Maumee.
Spread the word!
THIS STARTS NOW- AS OF JANUARY 1 , 2019
————————————————————————————————————————————————————————————————————————————–
29th ANNUALÂ  MAUMEE TACKLE WALLEYE TOURNAMENT
SATURDAY APRIL 13TH, 2019-
-RAIN DATE OF THE FOLLOWINGÂ  SATURDAY APRIL 20TH, 2019
Rule and Regs to be published .
————————————————————————————————————————————————————————————————————————————–
2ND ANNUAL WHITE BASSÂ TOURNAMENT
SATURDAY MAY 11, 2019–RAIN OR SHINE
---
Reminder that we are now a Federal Firearms licensed  dealer and we have brought in a rack of firearms and ammunition.  Mainly hunting rifles, shotguns and personal defense handguns.
In the age of big box outdoor stores, we are still trying to keep it personal. Bringing in firearms just adds to the "old-fashioned sporting goods store" feel that Maumee Tackle customers enjoy.
We are also able to process firearms transfers. This means that if you purchase a gun from an online gun dealer or for an in-person private transfer, we can accept the delivery and for a $25 fee, process the background check, do the paperwork and transfer the firearm into your name.
Have a great weekend, be safe and good luck fishing
Suggested Baits