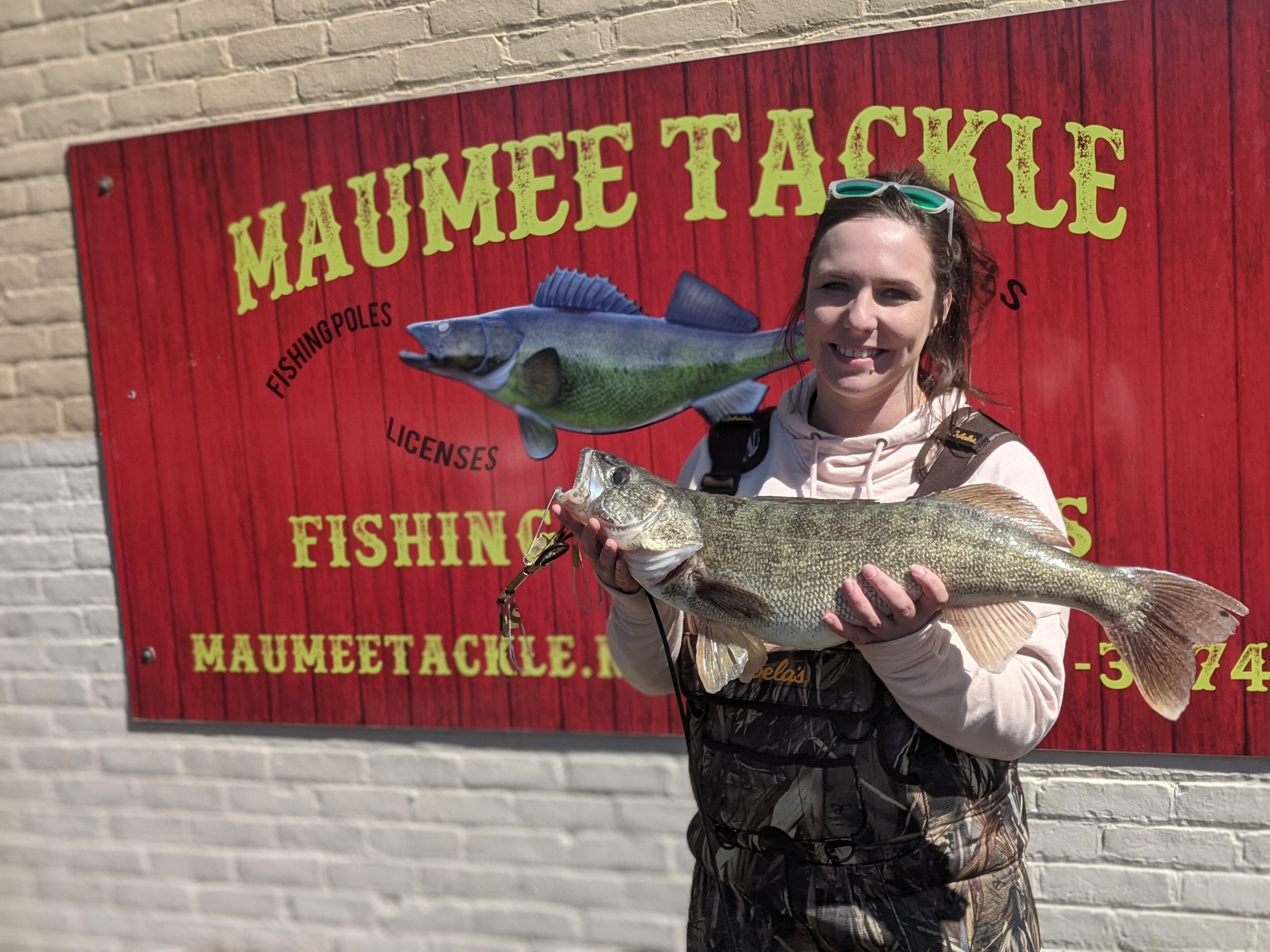 Barometric Pressure
29.65
Look at that fish-Beginners luck-its a real thing.
Sunrise/First cast- 7:38 am
Sunset/Last Cast-7:47 pm
Wading to Bluegrass Island is NOTÂ  permitted
All   other fishing areas are accessible today .
Weight:Â  Â 5/8- 3/4 oz
Color-  orange head / firetiger tail  , white head/ pink tail,  blackhead/  motor oil tail , blue head/ Xmas lights tail
*click on images to enlarge*
Well we finally have some water in the river and as a result yesterday was better than mid week–we saw some singles and doubles pulled out along the towpath, the river crested overnight and should level out nicely today.  White street and ford street access areas. Those areas should be productive again today. Davis overlook is always good to hit when its running at this level. 
Yesterday the morning bite started out pretty slow but as the day wore on it seemed like the fish were trickling in, we didn't see any limits but we did see a few more fish caught towards the evening bite.
Beginners luck; you know -that unusual success that some one has when trying something new.
Fishermen are superstitious , we all know it. Some of the fishing superstitions have been passed down from other anglers, grandfathers, and wild fishing stories from the tavern late at night, while others have been formed after a scary experience out on the water… and heaven forbid that we take full blame for the misfortune… otherwise, it would be a lame fishing story. Here's a few –maybe it'll help today.
In order to encourage fish to be caught, Scottish fishermen would begin their fishing session by throwing one of the crew members overboard and then hauling him back on , works in the river too.
No bananas on board, bananas bring bad luck to fishing and could mean disaster for the trip. -don't know why , just don't do it.
The Lucky Fishing Hat- Many anglers rarely hit the water without a hat on. It protects your head against the sun, it helps with the glare, and it protects your forehead from getting burned. But it also brings good luck. Or at least that is what we anglers believe. So much so that we drive our spouses, girlfriends, and boyfriends (some of you girls out there have some nasty old fishing hats too!) crazy with our stinky old baseball hats that we refuse to throw away, as they must be good luck…
It's said to be good luck to toss a shot of vodka into the water when you start fishing. This is because we believe in a water spirits those that are a sort of guardian of lakes and rivers. The shot of vodka is meant as a gift so thhe is happy and will allow us to catch many fish.   This is still very common. Most people don't actually believe in the spirit, but we noticed that the older the angler, the more adamant they are about making an offering. Maybe they're clinging to the old ways. Maybe fish are just easier to catch when they're drunk!
have fun , be safe and good luck fishing
Suggested Baits