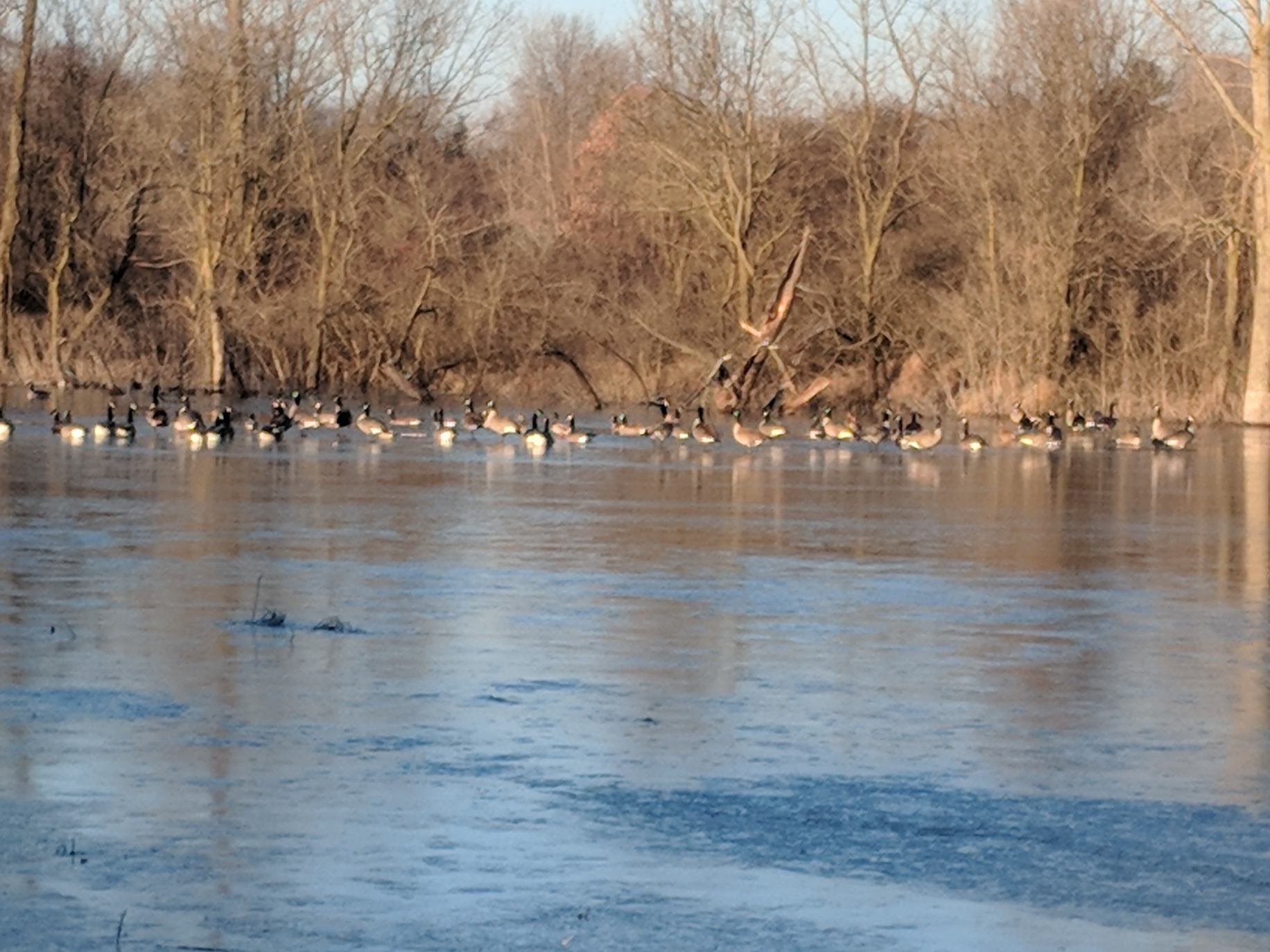 Barometric Pressure
30.45 inHg. falling
Maumee River and local ponds
*click on images to enlarge*
Remember that there is really no such thing as safe ice – exercise caution at all  times .
Well the last few nights have been in the low 20s , the river is down to 36 degrees. I went out and took a look at some of the local ponds this morning and the good news is that all of them had a nice thin layer of ice starting to form.  Now the next few days are supposed to be in he low 20s at night and then a quick warm up before it gets cold again. This seems like just about a normal as we can get winter- so maybe we will have some good fishable ice by the end of the month .
First ice is usually good for panfish.
Although great opportunities abound  through out the winter season the early ice is usually best for panfish such as crappie, bluegill and the like. one of the most important tools for early success is light line.  If you are into panfish then you will catch more and bigger fish using 2 or 3 lb line- the Berkley Micro Ice is about as good as it gets. The crowd factor is another consideration , its no secret as where the fish are going to be, its usually the same spots year after year-East Harbor for example. But as more and more anglers work there way into the hotspots the hotspots become less and less productive. You can beat the crowd by moving to the outer edges of the area, quantity fish will tolerate less commotion than the smallerfish and will often be the first ones to move to the outer perimeter of the feeding area.
Both sunfish and crappies tend to congregate together this time of year so many anglers prefer to use waxworm grubs as oppsed to minnows, if they do use minnows its ususlly just the head . This is because cold water crappies dont always prefer big baits, if you catch one open up its stomach and take a look to see what it has been feeding on. Usually this time of year it will be smaller grubs and insect larva.
With out a doubt early ice fishing is some of the best of the season.
Have fun be safe and good luck fishing
Suggested Baits