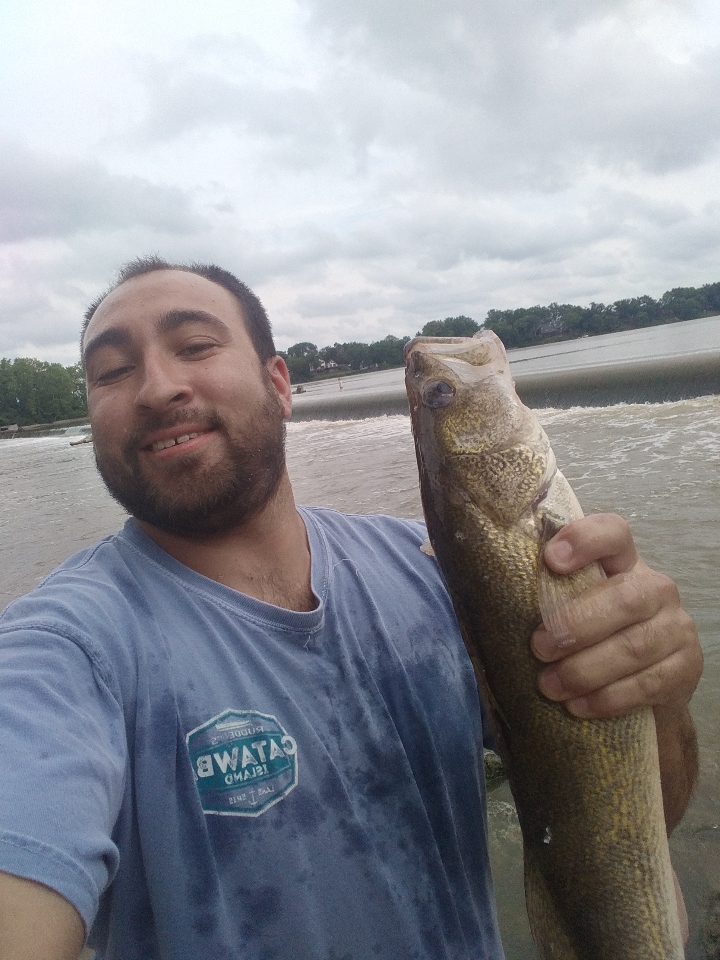 Water Temperature
74 degrees
Barometric Pressure
30.05 in
*Click images to enlarge*
As everybody knows we have received a lot of rain over the last few days, we sure needed it, the river was starting to get dry and  low. Today the water is up and moving at a decent clip -right around normal levels. The rain has the fish stirred up , just take look at that cover photo today.  Just one of the few walleye we've seen taken up here at the Providence dam in the last day or two. Grab a nightcrawler and  bounce it off the bottom, a lead head with a twister tail is working good as well.
BAIT MENU UPDATE: WE HAVE SHAD AT THE GRAND RAPIDS LOCATION
Over the last few days we've started getting some more supplies. Finally picked up a shipment of bobbers for fishing. And we received a shipment of suspense kayak storage accessories- so now we have more of the kayak pull carts, some ceiling hoists to load your kayaks for storage in garage or shed, kayaking canoe racks, and the workstation stands. I just took a few pictures of what we have but I've got a bunch of varieties of each of the pictured product.
Kayaking:
Fingers crossed By the end of the month we should have over 100 new kayaks stacked up in our showroom. I have a shipment of Jackson's coming, a shipment of wilderness systems a shipment of pelican brand and 10Â  paddle boards as well. The cab companies have never have not given me an exact date other than mid to late July is to when they will be delivered. This afternoon I will work on getting everything listed and I will publish that tomorrow so you can take a look and see what we have in the pipeline.
We have a good variety coming from sit inside sit on tops, four five of the pedal drives from Jackson and wilderness systems, fishing kayaks, recreational kayaks and some of the entry level paddle around kayaks.
The beauty of the Maumee river for kayaking is that its a nice easy cruising river.  No giant rapids to contend with- great for families and fishing. 
Kayak trips down the river have been awesome lately. The higher water levels has allowed us to launch and pick up from a few more locations than usual. For example the the Grand Rapids to Farnsworth tip has been awesome..lots of bald eagles, wildlife and peace on that trip.
Have fun, be safe and good luck on the water. 
Suggested Baits