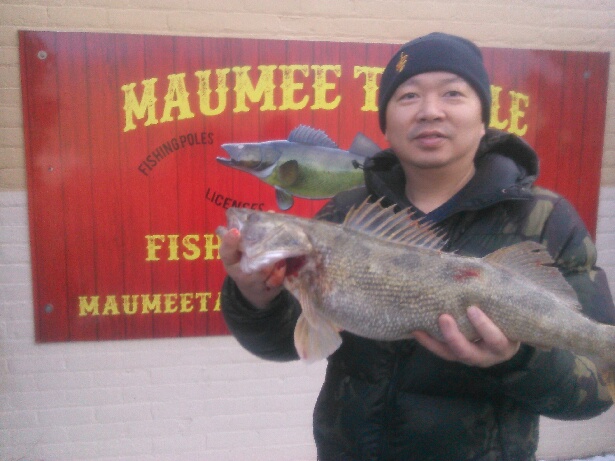 Water Temperature
38 degrees
Barometric Pressure
30.25 falling
Sunrise/First Cast-Â  7:44 am
        Sunset / Last Cast- 7:42 pm
        Weight: 3/4oz – 1 oz
        Colors: Green chartusse /firetail,  white head/ pink sparkle tail,  black head/ shimmer shad tail. 
CROSSING TO BLUEGRASS ISLAND IS NOT PERMITTED
Well the long wait is over , we saw our first walleye come out of the river yesterday . Ft Meigs  6.4 lbs–a very nice fish. We saw a few more come out through out  the day  as well. They have been moving our way since the warm up a few days ago.  When the water is running a little high like it is today , try a few short casts. The fish get tired from the long swim upstream against the current so they will lay up against the bank for a rest. Short cast just 20-25 ft off the bank and aim to get your drift into a little eddy or slack water , sometimes these early runners group up in these areas for a rest.
Ft Meigs, White street, Sidecut park, Davis Overlook and the Towpath are  accessible today.
Have fun , be safe and good luck fishing.
Suggested Baits