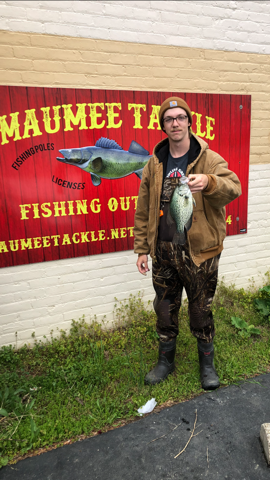 Barometric Pressure
29.78 inHg. steady
Wind out of the east the last 3 days has the water blown into the river, so levels are up a bit. Target the faster water for those white bass. Button wood, Davis over look, Jerome rd rapids and Bluegrass island are the hot spots right now. White bass, and catfish are hitting well.
Spring Crappie-
The typical spring crappie approach is not real complicated. You head for the backs of river and creek arms, anchor, and drop some minnows in sunken brushpiles, waiting for finicky spawning crappies to bite. In early spring, crappies move into shallow, protected areas searching for warmer water. In natural lakes, you'll generally find them in dark-bottomed bays and boat channels,in big rivers, look for them in shallow, weedy or brushy backwater areas. 
I've had good success with a small spin-rig (a tiny unskirted spinnerbait) tipped with a minnow. A weedless jig head (about one-sixteenth-ounce) tipped with a minnow is also good.
Once you locate a pocket of crappies, you may want to switch to a slip-bobber/minnow rig. You can tempt some fish with a fast-moving bait, but few crappies can resist a lively minnow wiggling in their faces.
Feateured Paddle board-YES WE SELL PADDLEBOARDS AS WELL!
FLOW 116-$419.99
The Pelican Flow Collection provides a beginner friendly paddle board that will endure through all of your ups & downs. The Flow 116 is best suited for heavier paddlers looking for a great all around paddle board or for a board that makes covering longer distances a little bit easier. A convenient bottle holder and bungee cord allows you to strap down your gear while keeping yourself well hydrated. The anti-slip cushioned deck pad provides more secure footing, as well as a softer landing. Multiple handles ensure you'll be able to easily carry this board around wherever you decide to go next. Made with our patented RAM-Xâ"¢ material, the Flow 116 will resist damage that other boards simply can not. It's time to take the plunge and get into paddle boarding! Start creating stories worth sharing.
Specifications
Length

11 ft 6 in.  

Width

31.5 in.  

Height

6 in. 

Weight

50 lb 

Capacity

260 lb
Have fun be safe and good luck fishing.
Suggested Baits