Maumee River Report:
LEVEL-580.5
TEMP- 42.8 degrees
Barometer: 30.22 inHg and steady
Wading to Bluegrass Island is possible
Clarity-8 inches
What  a beautiful weekend. We saw multiple Walleye taken both  Saturday and Sunday out of the river , most at Jerome road and Orleans park area.. The water warmed up another 2  degrees  with yesterdays sunshine as we are now over the 42 degree mark. The warmer 42/43 degree water flowing into Lake Erie coupled with this warming trend and the rain called for mid week will probably bring that first good push of walleye  in early . Now a word of caution ,even though we talk about "warmer water" -thats only from a fish/ spawning run perspective. 42 degree water is dangerous for human beings,if  you fall  in this water hypothermia can quickly set in, so make sure that before you wade into the river you are familiar with the area and this time of year Insulated neoprene wader are about the only way to go .   All that being said today is going to be another nice day and we anticipate seeing more fish taken. With the about average water level  1/2 oz to 3/4 should be good to get that lure bouncing on the bottom. Stick  with the normal go to colors to start out this run- pink sparkle , green sparkle white and red fire tail and plain white for a twister tails. We did see motor il with gold flake working well .. this color  the last few years has become a great go to color when nothing else seems to be working.
Washington's Birthday
Mostly sunny, with a high near 55. East wind 6 to 14 mph.
Tonight
Mostly cloudy, with a low around 42. East wind 6 to 11 mph.
Tuesday
Showers likely, mainly between 9am and 1pm. Mostly cloudy, with a high near 61. Southwest wind around 8 mph. Chance of precipitation is 70%. New precipitation amounts between a tenth and quarter of an inch possible.
Tuesday Night
Partly cloudy, with a low around 43. Southwest wind 5 to 7 mph becoming calm in the evening.
Wednesday
Mostly sunny, with a high near 65. West wind around 7 mph becoming south in the afternoon.
WE ARE FULLY STOCKED WITH ROD, REELS , AND WADERS FOR THE RIVER –SOMETHING TO FIT EVERY BUDGET
Have fun, be safe and good luck fishing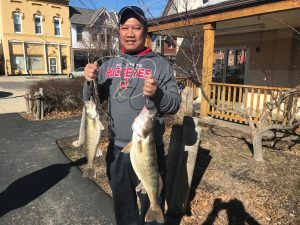 Suggested Baits