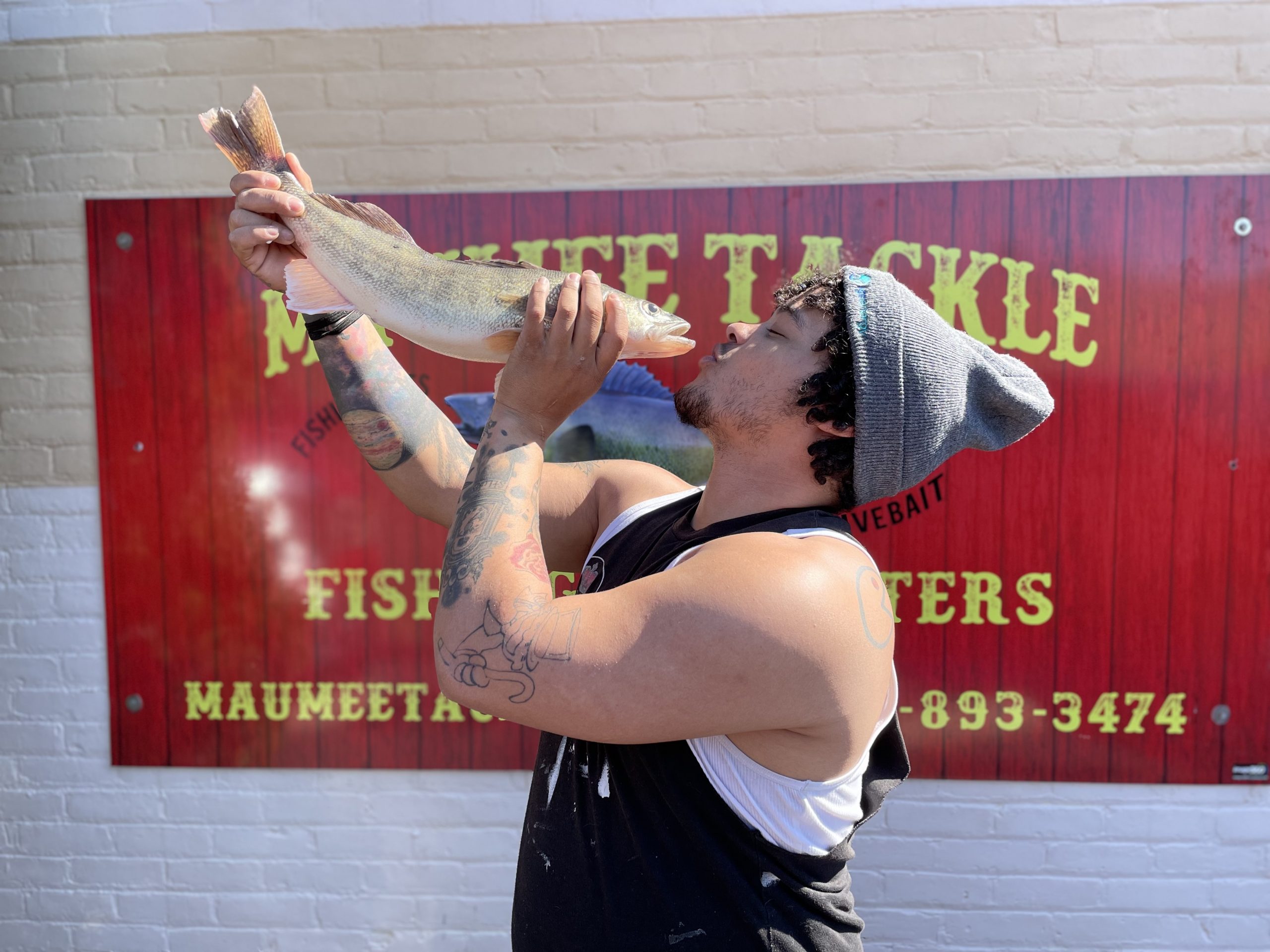 OPEN  6AM-8PM  MON-SAT
6AM-6PM SUNDAYS

SUNRISE/FIRST CAST – 7:37 AM
SUNSET/LAST CAST – 7:47 PM
WEIGHT:  3/4 oz- 1 oz 
BLUEGRASS ISLAND: too high to cross today-that water is moving swiftly so use extreme caution. 
BIG JACK WINNER: Austin Morris with 5.9lbs, Congrats! Head up to the shop to pick up your gift certificate! 
The water is up from yesterday-I posted this before , but here is a reminder on how to adjust your tactics for today.
"Fishing in higher water-Today with this high water the two best places to fish will be Orleans and White street–also along the Towpath and Ford Street access will be likely places to hit. Tactics have to be adjusted to catch fish in this high water- of course heavier weights are required to get that lure down to the fish , but also placement is key. Picture this : a person trying to run full speed into a strong headwind, the resistance tires the person, but if he gets next to a wall the resistance is lowered. Same thing with these walleye  swimming in mid river against the stronger than normal current. When the water gets this fast and heavy the fish will gravitate towards the bank and lay up close to shore in little breaks and eddies to get out of that strong resistance and catch a break.
So all that translates in to this- fish close into shore. I know its against your instinct , you want to cast as far as possible every. single. cast.  Try something different -Look for those little breaks in the current where a log or rock or pillar may be slowing the water down just a bit. Short cast up stream ( usually no more that 20-25 feet and try to get the lure to drift into that current break. When it hits that current break, get ready , there may be a good number of walleye laid up in there ready to hit. Every year under these same conditions we saw a large number of fish caught within 10 feet of shore . No need to try and cast across the river  when a good number of the fish will probably be right in front of you.
THE OLD WAYS – Several years ago , back in 2012 , I read an article by Matt Markey of the Toledo Blade about the relationship between the walleye running and the Forsythia bushes that are planted all around the area. I have heard that the Native Americans also used the the bloom of the plant as a gauge as to when to harvest the fish, Over the years I have kept an eye on the bloom and the peak of the walleye run- and they do seem to be in sync.  Science is great but sometimes the old ways are the best ways. So a couple  years ago  I planted a Forsythia in front of the shop–our very own walleye gauge.   When the bush is in full bloom with bright yellow flowers -that is the peak of the walleye run-its about 95% accurate. As you can see its still early.. I'm going to post weekly pictures so we can follow the guage.
FRESH BAIT MENU:
NIGHT CRAWLERS- 2 AND 1 DOZEN CONTAINER
LEAF/RED WORMS- 25 COUNT CONTAINER
WAXWORMS -50 AND 250 COUNT CONTAINERS
SHAD- FRESH AND STINKY- CUT AND WHOLE (BIG ONES)
EMERALD SHINERS- FRESH FROM LAKE ERIE
Have fun, be safe and good luck fishing.
Suggested Baits