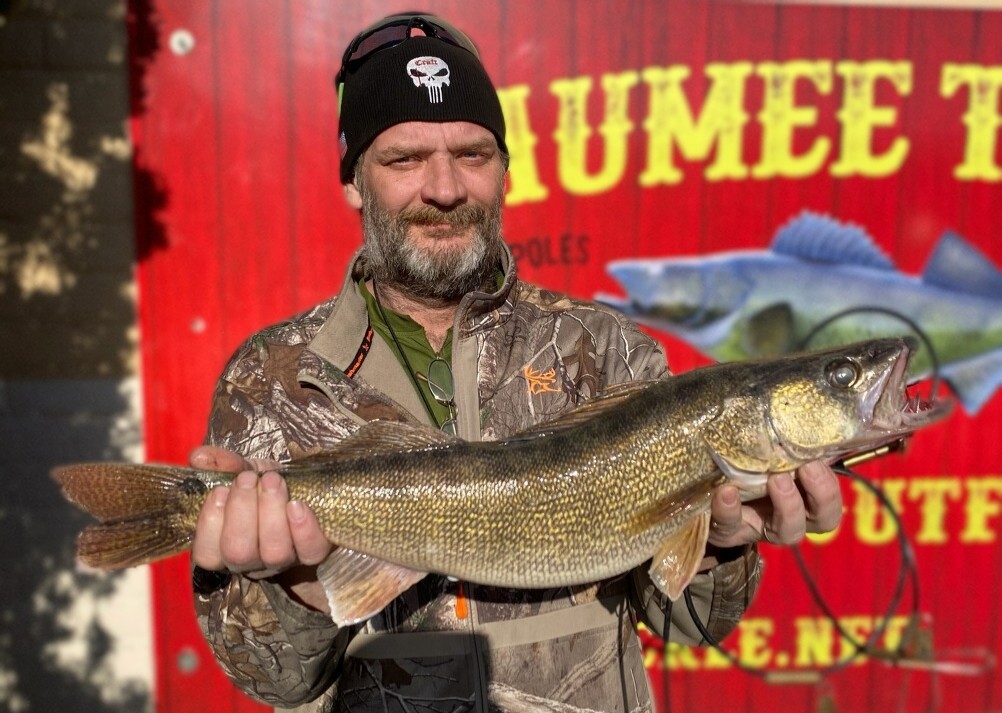 Water Level
583.5- no crossing to blue grass
Barometric Pressure
30.27
Sunrise/First cast- 7:37 am

Sunset/Last Cast-7:48 pm

Wading to Bluegrass Island is NOTÂ  permitted- water on the slow drop

All other fishing areas are accessible today .

Weight:Â  Â 5/8- 3/4 oz

Color-  orange head / firetiger tail  , white head/ pink tail,  blackhead/  motor oil tail , blue head/ Xmas lights tail. There really hasn't been any consistency the last few days..stick with old reliables. 

Every year , every walleye run is different…mother nature runs the show.

So on March 6th we saw the first few walleye caught. The following Thursday and Friday big jacks, big females, limits ..Bam the run is on. THEN  the following Saturday it got cold , real cold again , and zip that was it.. a week of slow fishing all the way thru yesterday. Now the weekend has been warm, we have some water and flow in the river-conditions look good. Yesterday evening  before last cast we saw many fish starting to roll and surface , always a good sign. Today is going to be nice and warm, Lets try some high water areas- White street, Orleans park. Hike over to ft meigs from Davis overlook. The towpath as well. Be careful wading Jerome rd – it can be real slippery over there.

Have fun be safe and good luck fishing.
Suggested Baits