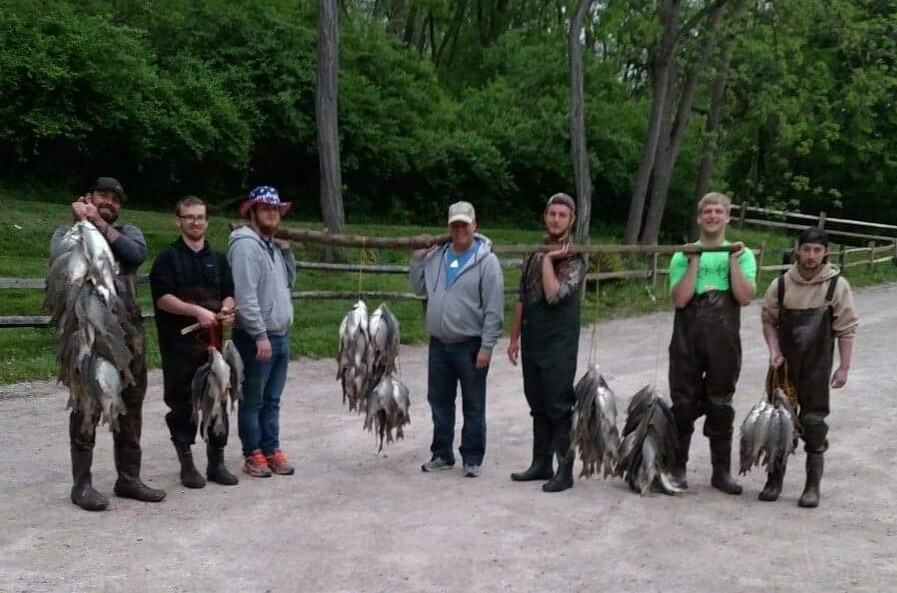 Barometric Pressure
29.94 inHg. steady
*click on images to enlarge*
The white bass are in the river heavy, those big schools are moving around so if you can move around as well and find that school you should be able to nail em pretty good. Sitting around and waiting in the same spot isnt going to work this year.  Perpetually high water, cold weather and dont forget that the ice damage from February changed the bottom of the river. I've been to a few spots that have been good over the last few years and its just not happening, the river bottom is different. Move around, try a new spot.
So the current record for the state of Ohio White Bass is 4 lbs 21 inches caught July 1 ,1983 by Ira Sizemore in Cincinnati,OH.  I say good for Mr. Sizemore but after 35 years its time for a new state record right here out of the Maumee River.  Now 4 lbs is a BIG White Bass! But I know that in the spring when a zillion White Bass come up the Maumee to spawn, big, fat and full of eggs, that there has to be one over that 4 lb mark. I have seen some big bass caught in April and May , definitely around the 3lb plus mark,  but no one ever puts them on a scale, well that's about to change. Several months ago I asked the Lucas county auditors office to come in and certify my scales here at the shop. They did, so now our scales are certified to record a state record.
This is what I am proposing: Start bringing in those big White Bass to be weighed and measured. When that lucky angler beats the state record we will weigh, certify, serve as witness and help the angler fill out the application.  We will call the news as well to make you famous.  When the record is officially beaten then Maumee Tackle Fishing Outfitters will pay for the fish to be mounted,(I will probably get a replica as well for the shop), and the new record holder will receive a $500 gift certificate to Maumee Tackle. There are numerous rules to certifying a state record-one of them being that the fish will have to be turned over to state certification officials for inspection – first and formost to verify the species and to prevent cheaters from turning in a tank raised fish or one full of sinkers etc. Record fish are determined on the basis of weight only.
In order to qualify for the prizes the whole process starting from the weigh in of a  fish  to the photo ops of the record,  must be done here at the shop in Maumee.
Spread the word!
AND BY THE WAY NONE OF THESE GUYS BROUGHT IN FISH TO WEIGH- CANT BE THE STATE CHAMP IF YOU DONT BRING THEM IN.
BIG CATS ARE ON THE HUNT-EVERYWHERE.
Early spring catfish feed on fish that have died or been stressed throughout the winter. As the water warms, catfish start to take live baits, especially if live fish are available. Early spring anglers should focus on warm water discharges, stream inflow areas of reservoirs, or areas where baitfish are schooling since catfish will start to feed more often.
Pre-Summer (May)
Live baits (nightcrawlers, crayfish, etc.) work well during spawning since they entice a bite from spawning catfish. Instead of fishing larger flats, anglers should focus on areas with heavy structure or cavities (downed logs or rip-rap) since most river catfish are cavity spawners.
Have fun be safe and good luck fishing
Suggested Baits