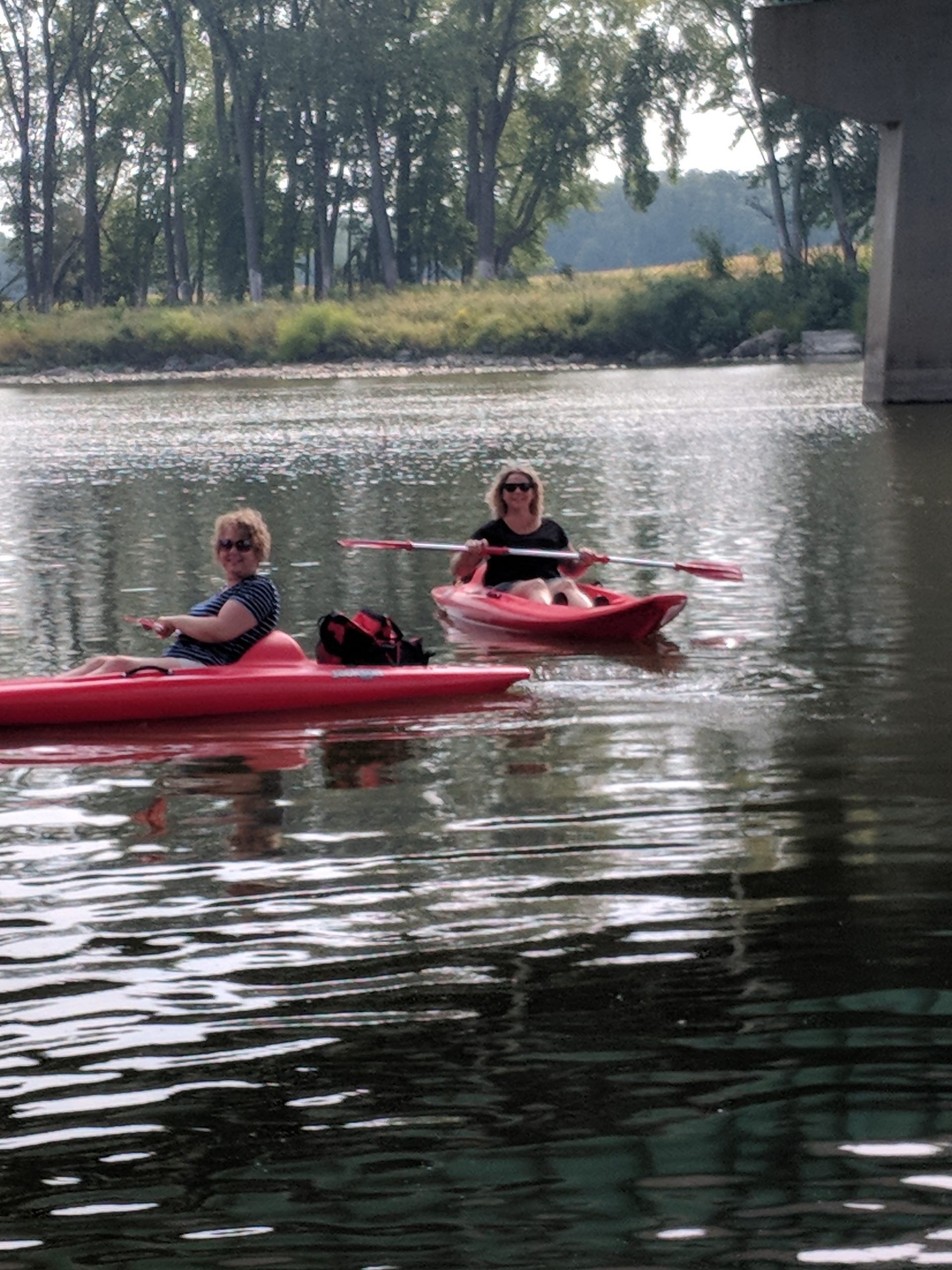 Barometric Pressure
29.80
Looking for something fun to do this fall in Toledo? Well grab a kayak and head out on the river!   We make kayaking convenient and easy. Be prepared to relax the entire day as you float leisurely downstream.
We got some much needed rain last night , mostly just enough to water the grass-not enough to change the water level  in the river-still running very low. Some of the  hardest fishing of all is the low, hot water of late summer. But dont be discouraged its still possible to get into some nice fish. Fish, like most other animals, are reluctant to feed in times of warm water or low water. You are trying to draw a reaction or impulse strike, so your baits should have extra life added to them, rubber legs on worms, wobbly /flassy crank baits and live wiggly worms and crawfish.  The more annoying the motion of the bait the better your chance of getting a reaction strike. Fish may not move a great distance in low, warm water to feed; your presentations will have to be almost in a direct line with the fish.  This may require more sight fishing and or/ multiple casts to the same area. Fish any decent flow of water; this is where the fish find oxygen and food in low water.  The better fish will lie directly under the fastest part of the flow(rapids) where the most oxygen is located. Never under estimate the power of the bug /insect pattered baits(pictured below) and often times larger is better. There are some large land born insects that get blown or knocked into the river, or maybe it is how bugs commit suicide, regardless of how it got there it is an easy meal. Always take advantage of summer rains.  The rain provides a burst of cool refreshing water which will make the fish more active.  Fish will take this time to feed aggressively until the water  warms back up.
Hunting Season is upon us
Let's face it. The vast majority of today's hunters, those who even know little about squirrels and squirrel hunting, don't see squirrels as glamorous. They're not a 190-inch whitetail. Or a 40-pound king salmon. Or a 3-year-old gobbler. Or a limit of drake mallards.  They're simply not cool anymore. Wrong! Squirrels and squirrel hunting is cool. It's one of the very first hunting opportunities offered each season. It's peaceful. It's quiet. It's relaxing. And it's the perfect situation in which to introduce young or inexperienced hunters to the world of the outdoors. Squirrel hunters get to wear camouflage clothes, shoot awesome little guns and commune with Mother Nature. What could be cooler than that?
White-tailed Deer Hunting
SPECIES
OPENING DATE
CLOSING DATE
DAILY BAG LIMIT
Deer Archery
September 28, 2019
February 2, 2020
The statewide bag limit is six deer.
Only one may be antlered.
You cannot exceed an individual county bag limit.
Youth Deer Gun

November 23, 2019
November 24, 2019
Deer Gun

December 2, 2019
December 8, 2019
 
December 21, 2019
December 22, 2019
Deer Muzzleloader

January 4, 2020
January 7, 2020
Wild Turkey Hunting
SPECIES
OPENING DATE
CLOSING DATE
DAILY BAG LIMIT
Fall Turkey:select counties

October 12, 2019
December 1, 2019
1 (either sex)
Youth Spring Turkey

April 18, 2020
April 19, 2020
2 birds total
Bearded only
1 per day
Spring Turkey: South Zone (except for Lake La Su An)

April 20, 2020
May 17, 2020
Spring Turkey: Northeast Zone

May 4, 2020
May 31, 2020
Small Game & Furbearer Hunting
SPECIES
OPENING DATE
CLOSING DATE
DAILY BAG LIMIT
American Crow (Fri, Sat, and Sun only)

June 7, 2019
March 7, 2020
No limit
 
June 5, 2020
March 6, 2021
Squirrel (red, gray, black, fox)

September 1, 2019
January 31, 2020
6
Ruffed Grouse

October 12, 2019
January 31, 2020
2
Cottontail Rabbit

November 1, 2019
February 29, 2020
4
Ring-necked Pheasant

November 1, 2019
January 11, 2020
2 (males only)
Chukar

November 1, 2019
January 11, 2020
2
Bobwhite Quail:Â select counties

November 1, 2019
December 1, 2019
4
Fox (red, gray), Raccoon, Skunk, Opossum, and Weasel

November 10, 2019
January 31, 2020
No Limit
Coyote
No Closed Season
No Limit
Feral Swine (Wild Boar)
No Closed Season
No Limit
Groundhog
Closed for deer gun season only
No Limit
Youth Small Game

October 19, 2019
October 20, 2019
Same as regular season
 
October 26, 2019
October 27, 2019
Same as regular season
Have fun , be safe and good luck hunting ,fishing and kayaking.
Suggested Baits
Warning
: Invalid argument supplied for foreach() in
/srv/users/mbtuser/apps/maumeetackle/public/wp-content/themes/maumeetackle/report-single.php
on line
41