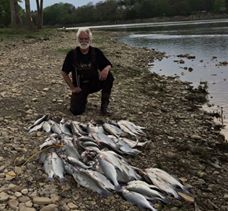 Barometric Pressure
30.11 inHg. rising
LAKE ERIE EMERALD SHINERS IN STOCK -TODAY
Wind- rushing water. That was the continuations yesterday and made for a tough day on the river. Today should be calm , warm and cloudy..much better conditions. Besides orleans and white street all along the towpath ough to be good today.
click on images to enlarge
Mr Day (pictured above) stopped in and shared this rare glimpse into the past here on the Maumee river. He said the white bass bite was hot that day and he was nailing them on a gold spinning blade tipped with a piece of worm- pretty cool.
Have fun , be safe and good luck fishing
Suggested Baits