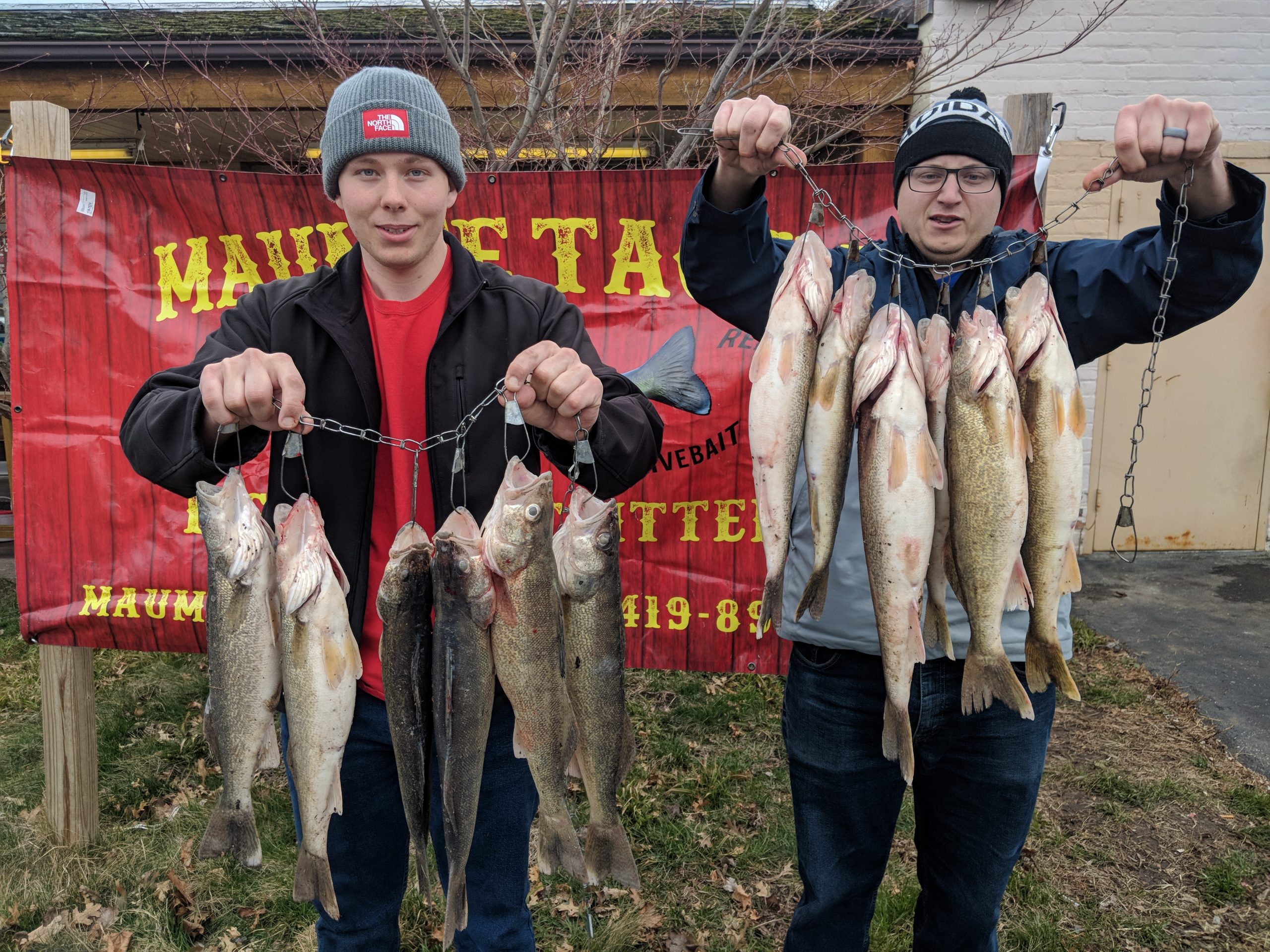 Barometric Pressure
29.86 falling
Limits before 9am yesterday-that river is full of walleye right now. We saw an awful lot of fish yesterday brought in-I will work to get the pictures posted but due to reduced staffing and the way we have to operate right now I havent had time to sort through all the pictures like normal.  We still have the big jack contest going on -leader is at 5.3 lbs.
First cast-727 am
last cast-754 pm
Crossing to bluegrass island is not permitted –water still looks just a little to high, maybe this afternoon and most likely tomorrow should be good.
Colors- Orange head/ orange tail has been consistent the last few days. Today is going to be overcast so the black head/glow in the dark tail is always good, green head and motor oil as well.
Weight- 1/2Â  to 5/8oz
Wow yesterday was a whoooole lot of people on the river -with many being out of work it looks like its a good time to get back into fishing and put some food on the table at the same time.  All the access areas seemed to produce fish at one time of the day or another as the big schools of walleye came through in waves. Today with the water being lower Jerome rd rapids ought to be a better spot that in the last few days. All along the towpath and ft meigs area was pretty steady as well. 
Here is some good news- 20% off all already low priced  in stock waders- I have over 100 pair of waders left so Im looking to blow out some inventory and  make you a good deal at the same time.- 
HODGEMAN NEOPRENEÂ Â WADERSÂ  REGULAR- $119.99 NOW $95.99
HODGEMAN BRIGHTON WADERS- REG $159.99 NOW $127.99
LACROSSE BRUSHTUFF NEOPRENEÂ Â WADERS-REG 229.99 NOWÂ  $183.99
LACROSSE MALLARD WADERS REG $219.99 NOW $175.99
*click on image to enlarge*
We appreciate everyone continuing to support our store and remind you all, to continue to shop small! Times like these are when small businesses need your support the most!
SO I think we are just about out of the Vengance rods from last weeks sale- Here is a new rod Im going to put on sale 
The Berkley Vendettas-Regular $79.99 NOW $59.99
With a continued tradition of advanced design and precision performance, the Vendetta fishing rod series features a construction that delivers on the water every time. 30 ton graphite paired with Intracarbon™ multidirectional carbon fibers allow for a lightweight blank with the ability to stand up to intense loads. The new Micro click reel seat hood allows for a secure connection while the new Contour Curve handle design maximizes comfort.
Have fun ,be safe, smile cause the fish are biting, life is good  and good luck fishing.
Suggested Baits