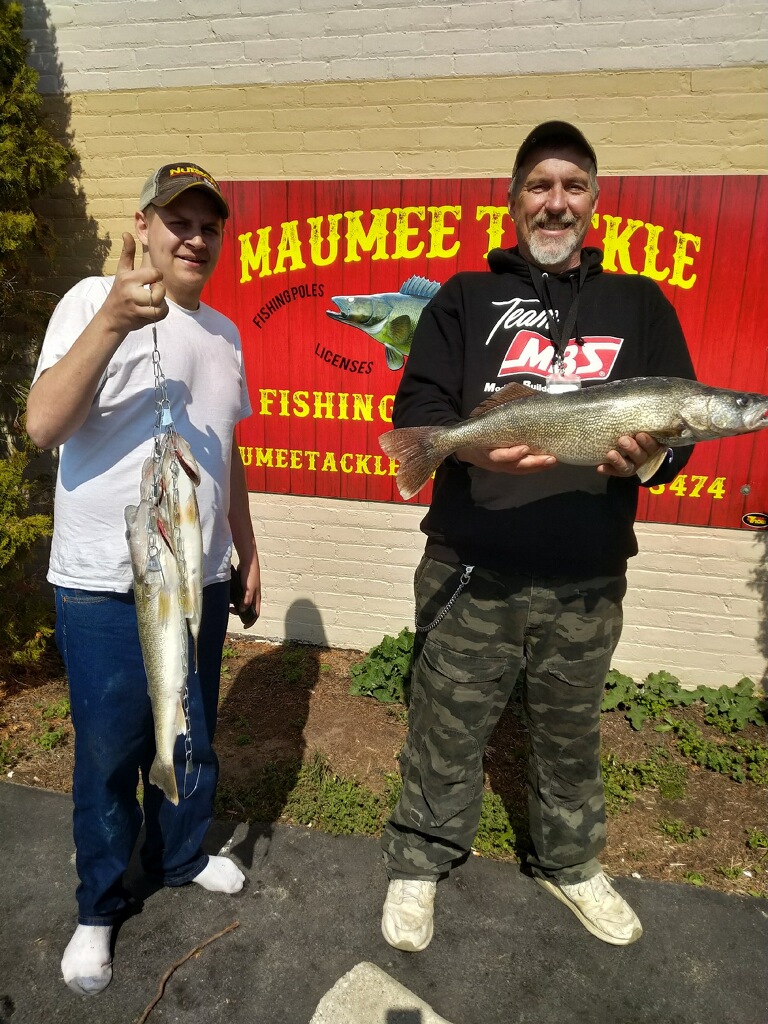 Barometric Pressure
29.82
Sunrise- 6:36 am
Sunset-8:28 pm
WADING TO BLUEGRASS IS PERMITTED
Weight-Â 5/8 to 1/2 oz
Colors- Green head / Yellow tail, Orange head/ green tail, Green head/ pink tail, Pink head/ White tail, Black head/shimmer shad tail.
*Click on images to enlarge*
Still seeing limits of waleye being caught early in the day. Yesterday was another productive day all up and down the river.  As the afternoon progressed the wind picked up and made it tough tto cast but anglers still managed some limits on through last cast.
Today is looking to be overdcast most of the day, ust a little bit of rain early but not enough to affect water levels.
Anywhere were the current is faster should be good today. Bluegrass, buttonwood and jerome rd rapids.
LAKE ERIE
Jigging continues to be very productive in the western basin of Lake Erie. Most anglers have been fishing the mid-lake reef complex west of Port Clinton, and reefs adjacent to the islands. Anglers have also done well off Vermillion. Most of the fish being caught are males 16 to 22 inches long, along with reports of the occasional smallmouth bass. Fishing for anglers trolling has been slower but has produced larger fish. The best success for anglers trolling has come from the Bass Islands area, especially west of North Bass Island and near Rattlesnake Island. Anglers jigging were using 5/8 and 3/4-ounce hair jigs and blade baits in 8 to 17 feet of water. Purple and black were the most popular colors. Anglers fishing with hair jigs have been using stinger hooks and tipping the jigs with minnows. Anglers trolling were having success using deep diving crankbaits set 50 to 100 feet back and trolled at 1.3 to 1.5 mph.
Have fun be safe and good luck fishing
Suggested Baits