Store hours have changed-   Open at 6AM Daily 
Monday   thru Friday 6AM-8 PM
Saturday-6AM- 6PM
Sunday-6AM-5PM
Maumee River Report:
LEVEL-580.3
TEMP- 46 degrees
Barometer: 30.12 inHg and rising
Wading to Bluegrass Island is possible
Clarity-8 inches
The daily bag limit for walleye in Ohio waters of Lake Erie is 6 fish per angler. On March 1 the daily bag limit reduces to 4 fish per angler. The minimum size limit for walleye is 15 inches.
The daily bag limit for yellow perch is 30 fish per angler in all Ohio waters of Lake Erie.
The trout and salmon daily bag limit is 2 fish per angler. The minimum size limit is 12 inches.
Black bass (largemouth and smallmouth bass): the daily bag limit is 5 fish per angler with a 14 inch minimum size limit.
Very slow walleye bite yesterday. We had reports of only a few being caught, and those were at Jerome rd rapids , bluegrass island and button wood areas.  The radar shows a a much needed rain system  coming our way. Once this rain brings the water level up we should see a significant change in the numbers of walleye moving upriver. Like i have said before its still early and its been great even having the opportunity to fish in the sunshine of February.
Still slower and low water use a  36- 48 inch leader , 1/2 , 5/8 or 3/4 weight and with the overcast day day try some of the stick with some of the darker colors . We havent seen any consistancsy yet with what is the hot color  The shimmer shad tail ( kind of a silvery pearl with sparkle )The berkly power baits Xmas lights and purple metalic flake  seemed to generate a few bites  yesterday  on a orange head. Also green head /motor oil tail is still working..
Today
A chance of showers and thunderstorms, mainly after 3pm. Cloudy, with a high near 58. South wind 9 to 13 mph. Chance of precipitation is 50%.
Tuesday Night
Showers likely and possibly a thunderstorm, then showers and thunderstorms after 1am. Low around 54. Southwest wind 15 to 18 mph.
Wednesday
Showers and thunderstorms likely before 9am, then a chance of showers. Mostly cloudy, with a high near 60. Windy, with a southwest wind 13 to 18 mph increasing to 21 to 26 mph in the afternoon. Winds could gust as high as 37 mph.
Have fun, be safe and good luck fishing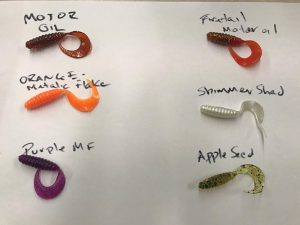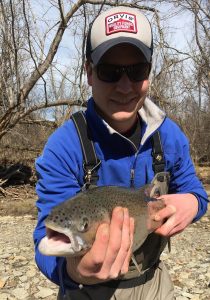 Suggested Baits