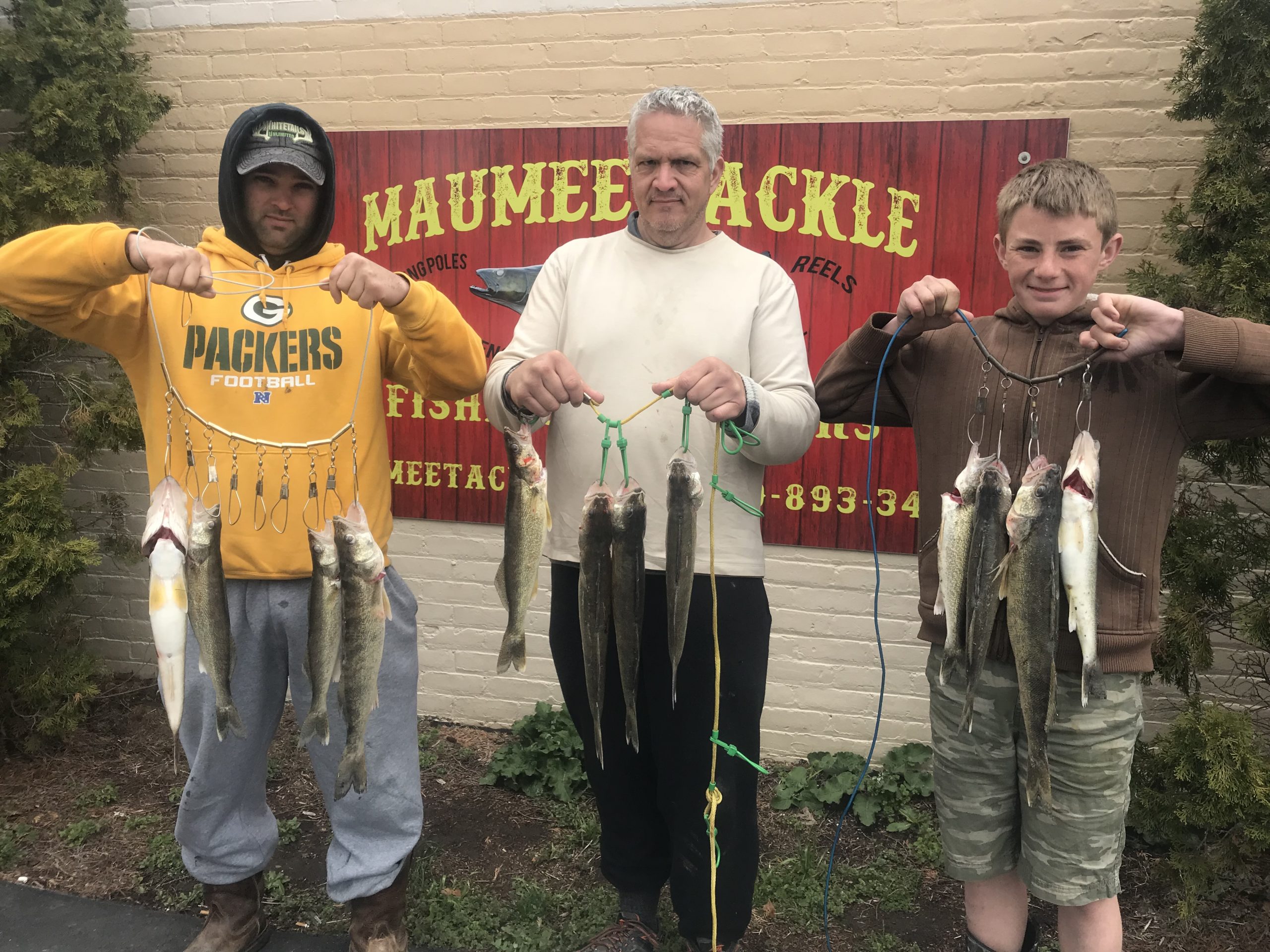 Water Temperature
52 degrees
Barometric Pressure
30.24
Sunrise- 6:34 am
Sunset-8:29 pm
WADING TO BLUEGRASS IS PERMITTED
Weight-Â 5/8 to 1/2 oz
Colors- Green head / green sparkle tail, Orange head/ green tail, Green head/ pink tail, Pink head/ White tail, Black head/shimmer shad tail.
*Click on images to enlarge*
Two cold nights in a row has the river beginning to cool a bit. This morning its 32 degrees out there, as a result the bite was just a little bit slower yesterday, but we still saw a dozen limits brought up to the shop and plenty of 2 s and 3 s.  Like I said before we are going to be seeing plenty of Walleye being caught well into May-Which is this Tuesday already.
As of May 1st the walleye spawning run restrictions are lifted and the limit goes up to 6 walleye.
White bass-we are seeing a few caught here and there but nothing like when the river is swarming with them -still lots of walleye being caught.
Again we keep hearing the rumor from all the riverbank lawyers that there is a white bass limit-NOT TRUE.  NO limit on white bass this year. Please stop listening to your buddies uncles friend that knows it all,  or some dude named Paulie that you just met on the river, or some post on a fishing discussion group, instead go and crack open the fishing regulation book for yourself -this year the limits are posted on page 7 and they are free here at the shop. Also a webpage I often refer to is  WILDLIFE.OHIODNR.GOV  when I have any regulations questions- that is the official Department of Natural Resources site .
Have fun be safe and good luck fishing.
Suggested Baits