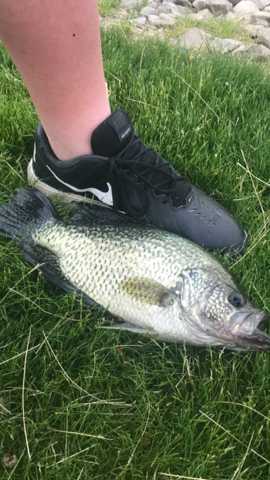 Barometric Pressure
29.89 inHg. rising
Big crappie–hearing reports of big ones coming out of the Maumee bay area. Those are size 13s next to that fish pictured above.
Catfish- lots being caught in all areas of the river
Smallmouth bass- Jerome rd Rapids and bluegrass island.
On the  river because of the flowing waterways, hot temperatures translate into a hot bite. Perhaps the best aspect of river fishing is how smallmouths set up, or position themselves in predictable places. All fish need both food and dissolved oxygen to survive. A smallmouth bass receives both by relating to current. River smallmouths prefer to live on the edge of current. This way they conserve energy and won't be swept down in the fastest water, yet they're also prepared to pounce on an easy meal floating downstream.Eddies created from the water current are the most popular smallmouth locales. The easiest ones to identify have boulders that create a break on the surface, which causes the water to pull back against the normal flow. Lying just below these rocks downstream is a pool of swirling water. Oftentimes this swirling motion creates bubbles or a foam-looking substance that floats on the surface. This is the perfect location for an initial cast. While these eddies often appear small, they can hold a dozen or more smallmouths.
Good luck, be safe and have fun on the river.
Suggested Baits