WOW ! A double smack down! Crappie and Walleye ! River Kam is out there giving lessons.. nice job.
(using fresh minnows by the way)
SUNSET/LAST CAST: 8:06 PM 
WEIGHT:  1/2 -5/8oz  low and slow. Try a 1/8 or 1/4 oz  lead head today as well.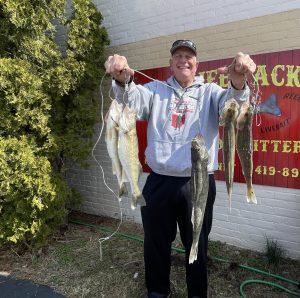 BLUEGRASS ISLAND: Low enough to cross .
Lots of ones in twos, again. No particular place was on fire yesterday although with the water being very low and very slow, the best places it to hit are the faster water. That means Buttonwood, bluegrass Island, Jerome Rd., Rapids, and out in front of Fort Meigs. Half ounce weights are bout all you need. We did see a change in the color patten a little bit yesterday  With the sunshine we are starting to see some of the brighter colors become more productive. Whitehead /pink tail, green head/ yellow tail, yellow head/ fire tiger tail.
Have fun , be safe and good luck fishing
Suggested Baits