Maumee River Report:
LEVEL-581.5
TEMP- 42 degrees
Barometer: 30.16 inHg and steady
Wading to Bluegrass Island is possible
Clarity-6 inches
Sunrise : 7:02 AM First cast)
Sunset: 6:30 PM (Last cast)
The days have warmed up and that first push of walleye is starting to get active. I would officially say that the run is on,off to a slow start but they are definitely in there with more arriving daily.  The Lake Erie average temperature is still at 36 degrees or lower so that warm Maumee river water flowing into it has triggered that first batch of walleyes spawning instinct and they have begun the journey up river. We saw a Big jack come in to win the weekly contest yesterday at 5.03 lbs. to win a $25 gift certificate.  This week starts a new contest running  Monday morning thru Sunday 5 pm.
We saw fish taken at Ford st, Orleans park, Ft. Meigs , Bluegrass and Jerome road rapids.   Those areas will be good spots again today. We didnt see any limits  but a good number of ones and twos.
Weight 5/8oz-3/4oz-1oz
Leader :3-4ft
Colors: Orange head/ berkly fitretiger tail     -green head /green tail  – black head /yellow tail   yellow head /yellow red firetail.
Keep in mind that we also have all colors available in the slightly larger 4 in tails. More visible and gives a better vibration  in this murky water
Today
A slight chance of showers before 11am, then a chance of showers after noon. Cloudy, with a high near 61. South wind 7 to 17 mph, with gusts as high as 30 mph. Chance of precipitation is 40%.
Tonight
Showers. Low around 54. Breezy, with a south wind 16 to 22 mph, with gusts as high as 32 mph. Chance of precipitation is 80%.
Tuesday
Showers before noon, then a chance of showers and thunderstorms between noon and 4pm, then a slight chance of showers after 4pm. High near 58. Breezy, with a southwest wind 16 to 21 mph. Chance of precipitation is 90%.
Have Fun Be safe and Good luck fishing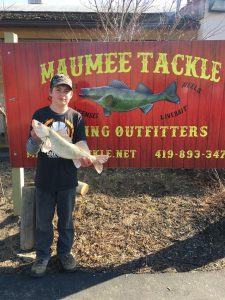 Suggested Baits