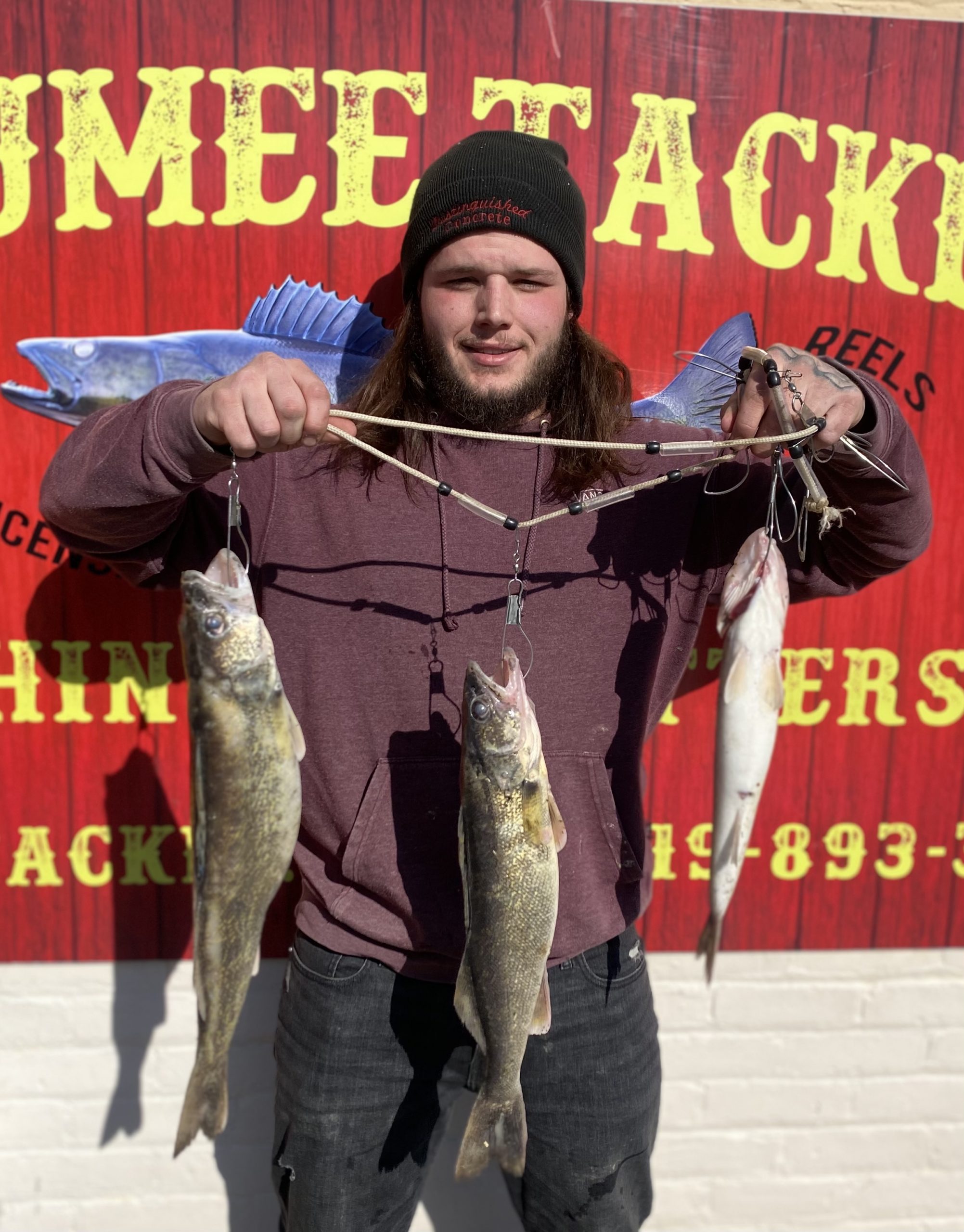 Barometric Pressure
30.05
 OPEN  6AM-8PM  MON-SAT
6AM-6PM SUNDAYS

SUNRISE/ FIRST CAST-7:01 AM
SUNSET/ LAST CAST-6:32 PM
WEIGHT: 5/8 oz – 3/4 oz
BLUEGRASS ISLAND: Crossing is doable this morning , however the area got some rain last night so we will see some rising water – proceed with caution .
Colors: White head /shimmershad  tail, yellow head / pink sparkle tail., black head / Xmas lights tail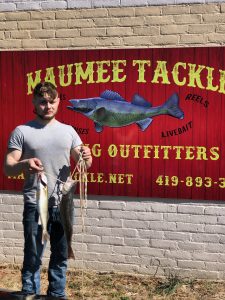 Despite the windy conditions we saw a few caught yesterday. Saturdays nights rain and Sundays sunshine warmed the river up a few degrees so we will definitely see more and more fish in the coming week. Once the wind died down-around 3 pm sounds like the bite got alot better and more than a few were caught.
Hit button wood and Jerome rd rapids today , according to some late afternoon reports the walleye are moving in quickly. Keep an eye out for rising water , the whole area is getting rain today.
When do walleye spawn?
When walleye spawn depends on two factors: length of day and water temperature. Length of day offsets the extremes of temperatures walleye on average spawn when temperatures hover in the mid to upper 40's. Often river walleye will spawn before lake walleye, because the water warms faster and ice off is sooner.walleye can be found spawning in the shallows on rock and gravel.Males tend to reach these areas first, and stay longer.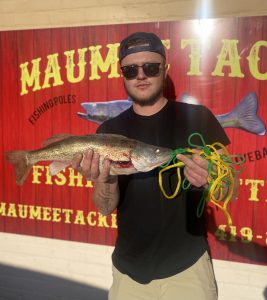 Crappie:  This is one of my most favorite times to be fishing, as the water warms  we start the hunt for numbers of decent sized fish that are one of the tastiest there is. Springtime crappie fishing is a highly anticipated event, great fun for family, kids and the pros alike Many area farmponds and small public venues have good crappie fishing . One of the easiest and most simple tactics for early spring crappie success is casting small jigs, suspended below bobbers, to shoreline cover such as docks, fallen logs or riprap shorelines. Visible structure is easy to key on and the chances of catching a bass or bonus bluegill are always available. Preferred jigs are  right around 1/32 ounce with white and pink heads and a variety of plastic tails and trailers. Some anglers prefer curly tail grubs from 1 to 2 inches long and others like the tube-style jigs that have been around for years. Yet other anglers have done well with small 2-inch crankbaits. One almost forgotten tactic that has worked for me is the use of a simple garden worm on a small #8 hook dropped right in front of some crappie structure . Dont be discourage , often they wil spook or just swim away. Keep in mind that the Ohio daily limit on crappie in most areas is 30 fish , although there are some site specific areas where the number is different. Be sure to check the area your going to fish prior to heading out.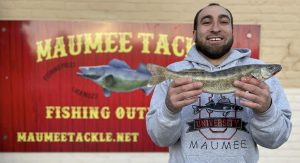 Have fun be safe , and good luck fishig.
Suggested Baits
Jackson - Mayfly - 2021

Buy Now
Jackson - Liska 2021

Buy Now
Jackson - Tupelo 12.0 - 2021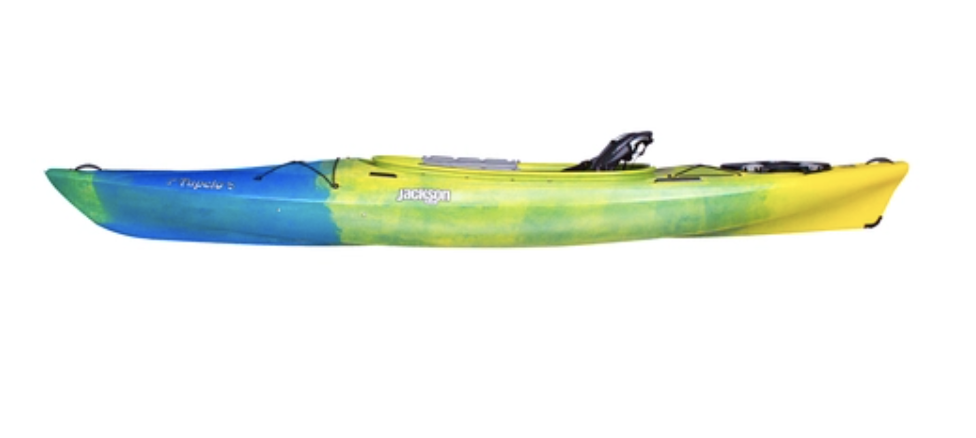 Buy Now
Jackson - YuPIK - 2021

Buy Now
Jackson - Tripper 12 - 2021

Buy Now
Jackson - Cruise 10 - 2021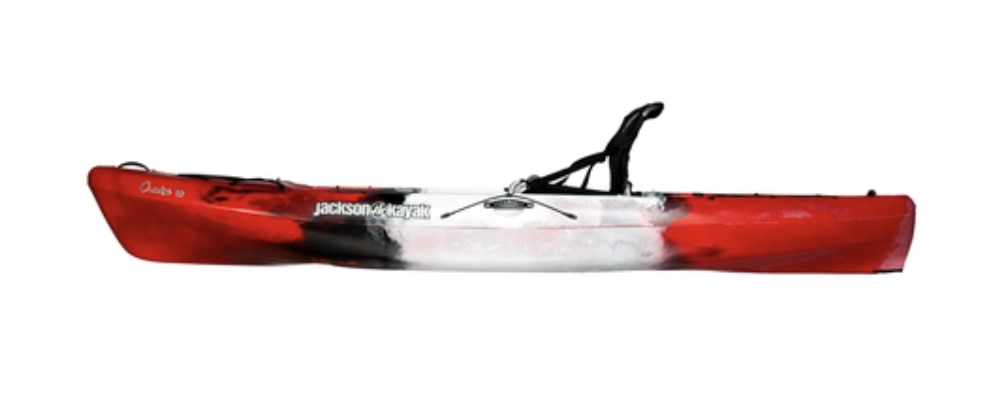 Buy Now
Jackson - Staxx - 2021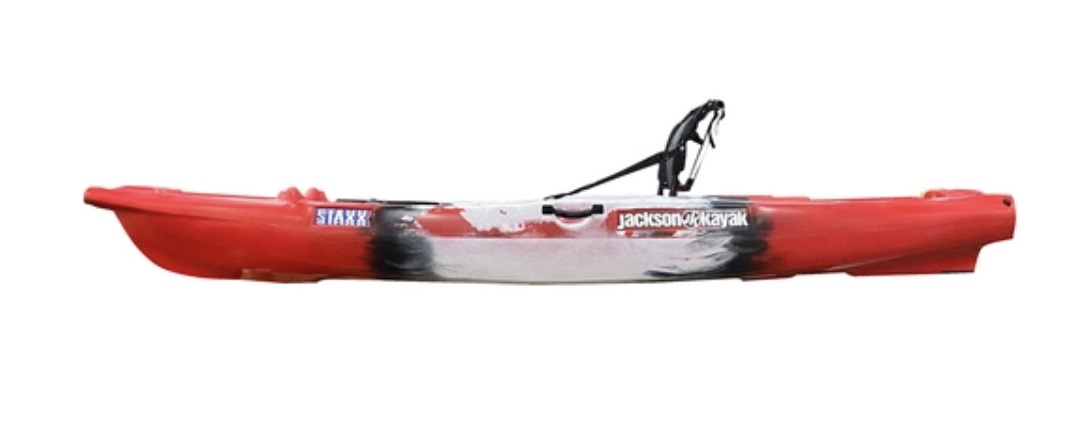 Buy Now