Maumee River Report:
LEVEL-581.2
TEMP- 44 degrees
Barometer: 29.98 inHg and steady
Wading to Bluegrass Island is possible
Clarity-4 inches
Sunrise : 6:58Â AM First cast)
Sunset: 6:32 PM (Last cast)
Virtually no change in the river conditions today . and expected to rise  just slightly then steady out again. Basically the rain we got yesterday didn't to much, although the current has increased and may need at least 3/4 – 1oz to hold that bait near the bottom.
We saw a  fish come in from Jerome Rd rapids and had reports of a few others caught  there as well .  Also reports of one caught at Bluegrass and Buttonwood respectively. And we are hearing of a few females being snagged (and released of course). So the outlook is promising. The wind picked up yesterday afternoon and made its pretty difficult fishing for most of the day. and they are calling for more wind today . Keep in mind that it still is officially winter- the first day of spring isn't until March 20.  All areas will be accessible to fish today.
Weight:3/4oz-1oz
Leader:Â 3-4ft
Colors:  Black Head /White Tail   –  Yellow Head / Orange Metal Flake Tail  – Glow in Dark Head and Tail – Greenhead /Berkly Firetiger Tail
Today
Sunny, with a high near 53. Windy, with a southwest wind 14 to 19 mph increasing to 27 to 32 mph in the afternoon. Winds could gust as high as 60 mph.
Tonight
Partly cloudy, with a low around 31. Windy, with a west wind 20 to 30 mph decreasing to 7 to 17 mph after midnight. Winds could gust as high as 55 mph.
Thursday
A slight chance of snow between noon and 1pm, then a chance of rain. Mostly cloudy, with a high near 44. Southwest wind around 5 mph becoming calm in the morning  Little or no snow accumulation expected.
Have Fun Be safe and Good luck fishing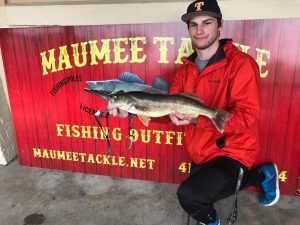 Suggested Baits