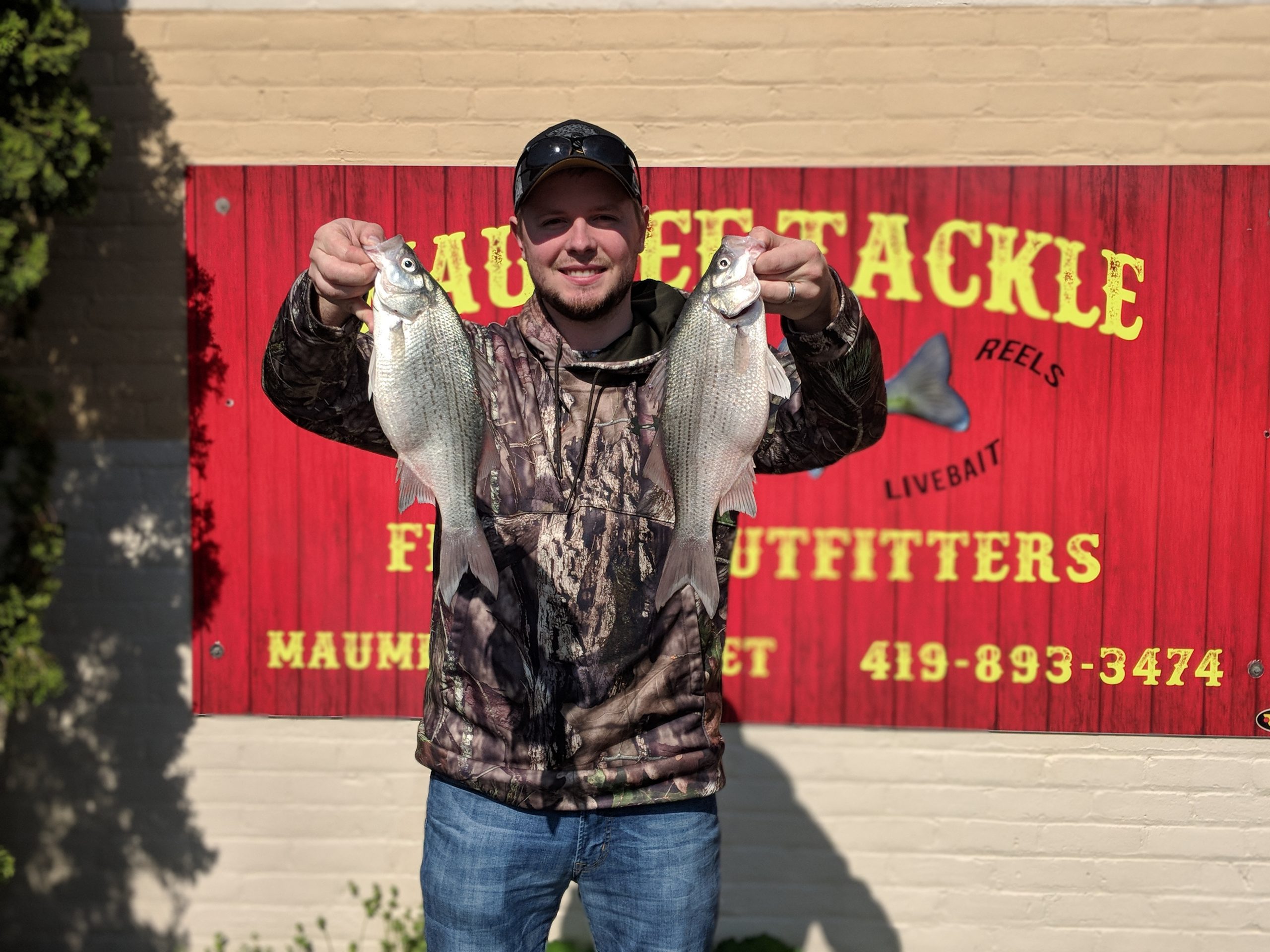 Water Level
582.5 and dropping
Barometric Pressure
29.84 inHg. falling
Yesterdays high winds made it tough out on the river, It blew the water in and created a wind tunnel that was really hard to cast into. The anglers that found a break out of the wind got into the white bass pretty good, we saw a few buckets  and coolers full.  Today the wind has died so all access areas are open.   Orleans Park, White street, along the towpath, Davis over look  and Jerome rd should all be productive for white bass. And we are real close to being able to cross to bluegrass island for the first time in 3 weeks. There is still a good number of walleye in the river, good chance ofgetting a few walleye and a bunch of white bass.
SATURDAY MAY 11 IS LOOKING TO BE SUNNY AND WARM FOR THE WHITE BASS TOURNAMENT.
Maumee Tackle WHITE BASS Tournament
104 W. Wayne St. Maumee,OH,43537
419-893-3474
SATURDAY MAY 11th 2019
Rain or Shine
Entry Per Angler- $20.00
$10 per Angler for big fish
WHITE BASS RULES- THIS IS AN INDIVIDUAL ANGLER TOURNAMENT-NO TEAMS
1. TOURNAMENT LIMIT IS FIVE FISH PER ANGLER.
2. START TIME IS 7:00AM. WEIGH-IN IS AT 1:00PM. ALL CONTESTANTS MUST BE AT THE WEIGH-IN AND CHECK IN AT THE CHECK-IN TABLE NO LATER THEN 1:00PM OR BE DISQUALIFIED. NO FISH WILL BE WEIGHED IN BEFORE 1:00PM.
3. ALL FISH MUST BE CAUGHT BETWEEN ORLEANS PARK AND JEROME RD AT SIDE CUT METRO PARK.
4. BOATERS MUST COME TO THE SHOP FOR BOAT INSPECTION ( SAFETY EQUIPMENT ). WE WILL BE OPEN AT THE SHOP AT 6:OOAM TOURNAMENT DAY.
5. ALL DECISIONS BY THE TOURNAMENT DIRECTOR ARE FINAL.
6. EACH ANGLER MAY KEEP THEIR WHITE BASS. YOU MUST SELECT YOUR FIVE HEAVIEST WHITE BASS BEFORE APPROACHING THE SCALES. HAVE YOUR FISH OFF THE STRINGERS PLEASE.
7. ALL WHITE BASS MUST BE FREE OF ANY SNAG MARKS. IF YOU CATCH A WHITE BASS THAT HAS A SNAG MARK OR ANY CUT THAT LOOKS LIKE A SNAG MARK IT WILL NOT BE WEIGHED. PLEASE INSPECT YOUR FISH. WARTS ON FISH ARE NATURALLY OCCURRING AND WILL NOT BE LOOKED UPON AS SNAG MARKS, UNLESS OF COURSE IT HAS A CUT.
8. NO ICED OR FROZEN FISH.( WE KNOW WHAT A DAY OLD WHITE BASS LOOKS LIKE) ALL FISH MUST BE CLEAN OF ANY DIRT, MUD OR DEBRIS. TO RETAIN BEST WEIGHT OF YOUR FISH, IT IS WISE TO PUT THEM IN A COOLER WITH SOME RIVER WATER . ALIVE FISH ARE BEST BUT NOT PART OF THE RULES.
9. ALL STATE FISHING REGULATIONS MUST BE ADHERED TO.
10. ALL BOATERS MUST WEAR THEIR LIFE VEST WHILE THE GAS ENGINE IS RUNNING.
11.THERE IS NO MINIMUM AGE LIMIT OF PARTICIPANTS. ADULTS MAY ENTER THEIR KIDS INTO TOURNAMENT WITH OUT HAVING TO ENTER IT THEMSELVES.
12. ANY ANGLERS POOLING THEIR FISH TOGETHER WILL BE BANNED FROM FUTURE TOURNAMENTS AND MAUMEE TACKLE .
PAYOUTS WILL BE 1ST , 2ND AND 3RD PLACE -85 % OF ENTRY MONEY PAID
15% OF ENTRY MONEY WLL BE DONATED TO Zachary E. Biller Memorial Scholarship Fund- To be administered through the Bowling Green Community Foundation, as a sub organization of the Toledo Community Foundation, Inc
HAVE FUN, BE SAFE AND GOOD LUCK FISHING
Suggested Baits