LEVEL-583.5
TEMP- 51Â degrees
Barometer: 30.27 and steady
Wading to Bluegrass Island is NOT possible
Clarity-6 inches
Sunrise : 7:00 AM (First cast)
Sunset: 8:11 PM (Last cast)
I have had many calls and questions concerning a recent news report stating that the walleye limit has changed to 6 fish. This is what the regulation states per the April 5th update of the Ohio Department of Natural Resources.
"The daily bag limit for walleye in Ohio waters of Lake Erie and Tributaries (this includes the Maumeee) is 4 fish per angler from March 1 through April 30. The minimum size limit for walleye is 15 inches.
The daily bag limit for yellow perch is 30 fish per angler in all Ohio waters of Lake Erie.
The trout and salmon daily bag limit is 2 fish per angler. The minimum size limit is 12 inches.
Black bass (largemouth and smallmouth bass): the daily bag limit is 5 fish per angler with a 14 inch minimum size limit.'
Typically on May first the limit increases to 6 walleye per angler. and that is what we expect to happen again this year. If it changes we will let you know.
River level stayed pretty steady yesterday and thru the night. We are still anticipating it to slowly drop. We saw limits taken all day and into the evening from all access areas . Today the conditions are almots identical and we should see lots of walleye taken . There are a lot of small jacks(male walleye) being caught – make sure you have that tape measure available to ensure it is over the 15 inch size requirement.
This extended period of slightly higher water has continued to bring in wave after wave of fresh walleye. We had anglers come in yesterday telling us how they got walleye limits in less that 20 minutes, then they camein and reloaded and headed out to get some crapie and we saw good crappieand blue gill taken yesterday as well.
Today try Buttonwwod, Ft. Meigs , the Towpath, Jerome rd Rapids, Schroders farm , Ford street .and that spot where nobody is fishing but you have had your eye on for awhile .
All in all its going to be a very good day of fishing.
Weight:5/8 -3/4 OZ
Leader:36-48 inches
Colors: Orange head/black Tail – Whitehead / green sparkle tail – Red head/ pink tail – green head/ Powerbait firetiger tail
TodayMostly sunny, with a high near 61. Calm wind becoming west 5 to 8 mph in the morning.
TonightIncreasing clouds, with a low around 40. Calm wind becoming east around 5 mph after midnight.
ThursdayA slight chance of showers after 11am. Mostly cloudy, with a high near 54. East wind 7 to 13 mph. Chance of precipitation is 20%.
Have Fun, Be safe and good luck fishing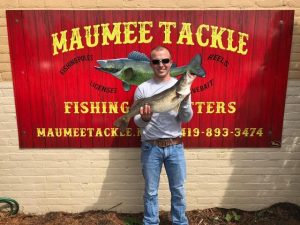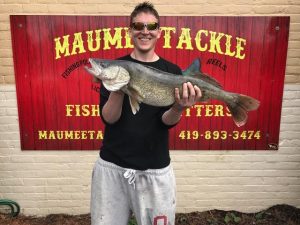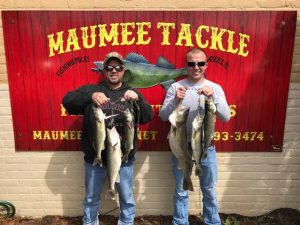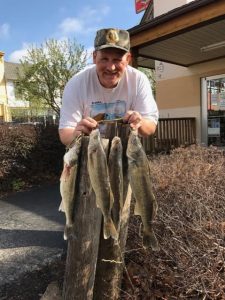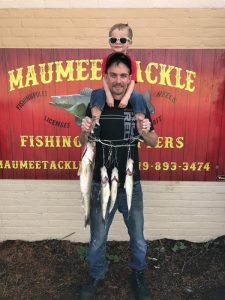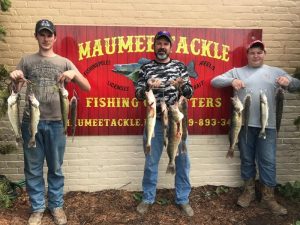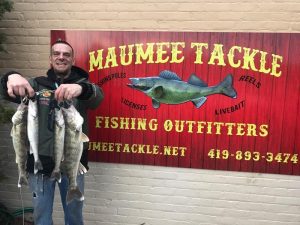 Suggested Baits