Maumee River
LEVEL-581.0
TEMP- 59.0 Â degrees
Barometer: 29.89 and falling
Wading to Bluegrass Island is possible
Clarity-4 inches
Sunrise : 6:46 AM (First cast)
Sunset: 8:21 PM (Last cast)
Wow that morning walleye bite has been great the last few days. Again we saw some very quick morning limits and fish being caught all through the day until the storms rolled thru yesterday evening. The heaving rain we got was perfect, freshened up the river and brought the water level up just a few inches up to 581 and expected to rise another few inches throughout the day. Bluegrass island was definitly the place to fish yesterday and will be the hotspaot again today. All access areas are accsisble with Jerome rd rapids , Bluegrass Island, Buttonwood and Ft. Meigs being the best areas to hit.
The weekend is shaping up to be very good ,no storms in the forecast just cloudy.
The 6th Annual Maumee high school vs Perrysburg high school fishing tournament on Saturday April 22nd. The intent is to promote good fellowship between the two schools- 2 longest walleye and 2 longest white bass combo wins- FREE Registration and rules available here at Maumee Tackle Open to all high school students and Alumni
Weight:1/2-5/8 oz
Leader:24-36 inches
Colors: green head/black Tail – orange head / motoroil firetail tail – blackhead /orange tail – red head/White tail
Weather Report
Today Mostly cloudy, with a high near 54. West wind 10 to 15 mph.
Tonight Mostly cloudy, with a low around 40. Northwest wind 7 to 10 mph.
Saturday Partly sunny, with a high near 54. Northeast wind 11 to 13 mph.
Have Fun Be safe and Good LucK Fishing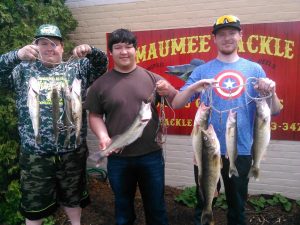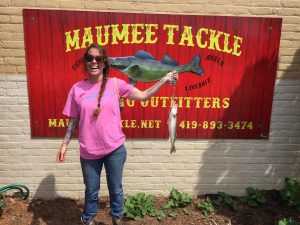 Suggested Baits