Maumee River
LEVEL-581.5
TEMP- 58.0 Â degrees
Barometer: 30.12 and steady
Wading to Bluegrass Island is possible
Clarity-5 inches
Sunrise : 6:43 AM (First cast)
Sunset: 8:23 PM (Last cast)
The water stayed steady , but has a good fast flow–still safe to wade to bluegrass. We saw the early morning anglers hit their limits( mostly small jacks) pretty quickly. Then the bite slowed down until evening rolled around.
Today we are expecting to see a lot of those smaller jacks being caught. While there are still many walleye in the river( still seeing and occasional female) we are on the down slope of the run. The darker natural looking colors seemed to work pretty well yesterday with the cloudy over cast weather. Today being a bright sunny day for the most part try to switch it up to those brighter colors , rocket red and pinks are always good go to colors.
We have seen a few nice stringers of white bass but they are still in the early stages of moving in.Some of the big females taken have been close to that 3 lb mark. Its that perfect time of year when all the river species are active and many anglers go out with the goal of catching one of each. The Ohio Department of Natural Resources offers a pin called " Master Angler" For catching a fish Ohio fish of 4 species in the same year, right now is a great time to set that goal- go big or go home.
All access areas are fishable today with yesterdays hot spot being bluegrass island once again. We also saw a few limits taken near Ft Miegs and along the Towpath.
We had a great time at the Perrysburg vs. Maumee Tournament with the Perrysburg team bring home the Big Trophy and bragging rights , below are a few pictures from the event.
Weight:1/2-5/8 oz
Leader:24-36 inches
Colors: black head/rocket red Tail – orange head / watermelon red flake tail – blackhead /baby bass( kinda bass skin looking) tail – red head/White tail
Weather Report
Today Partly sunny, with a high near 56. Northeast wind 8 to 14 mph.
Tonight Partly cloudy, with a low around 39. Northeast wind 5 to 8 mph.
Sunday Sunny, with a high near 63. Northeast wind 6 to 8 mph.
Have Fun Be safe and Good LucK Fishing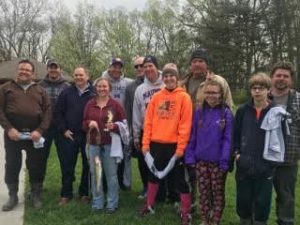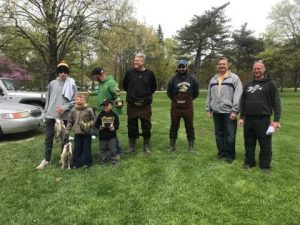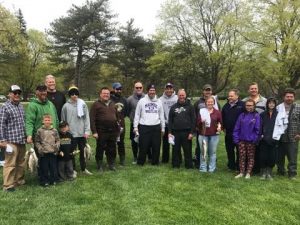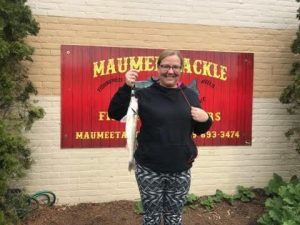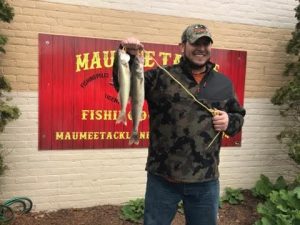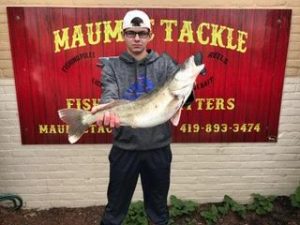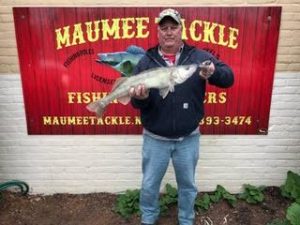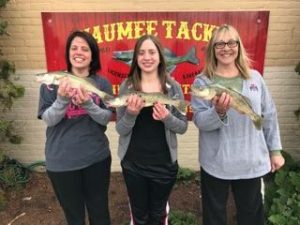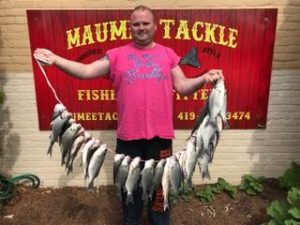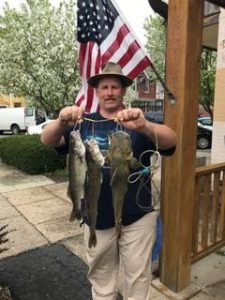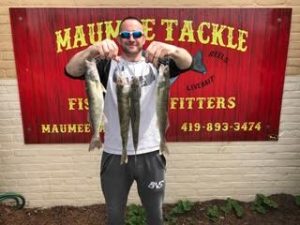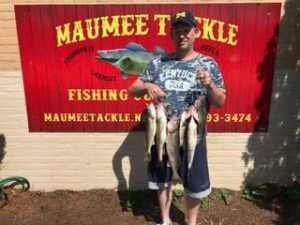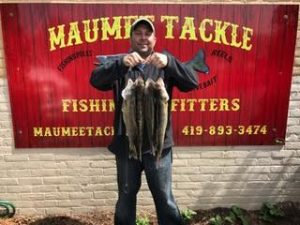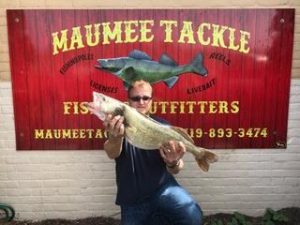 Suggested Baits