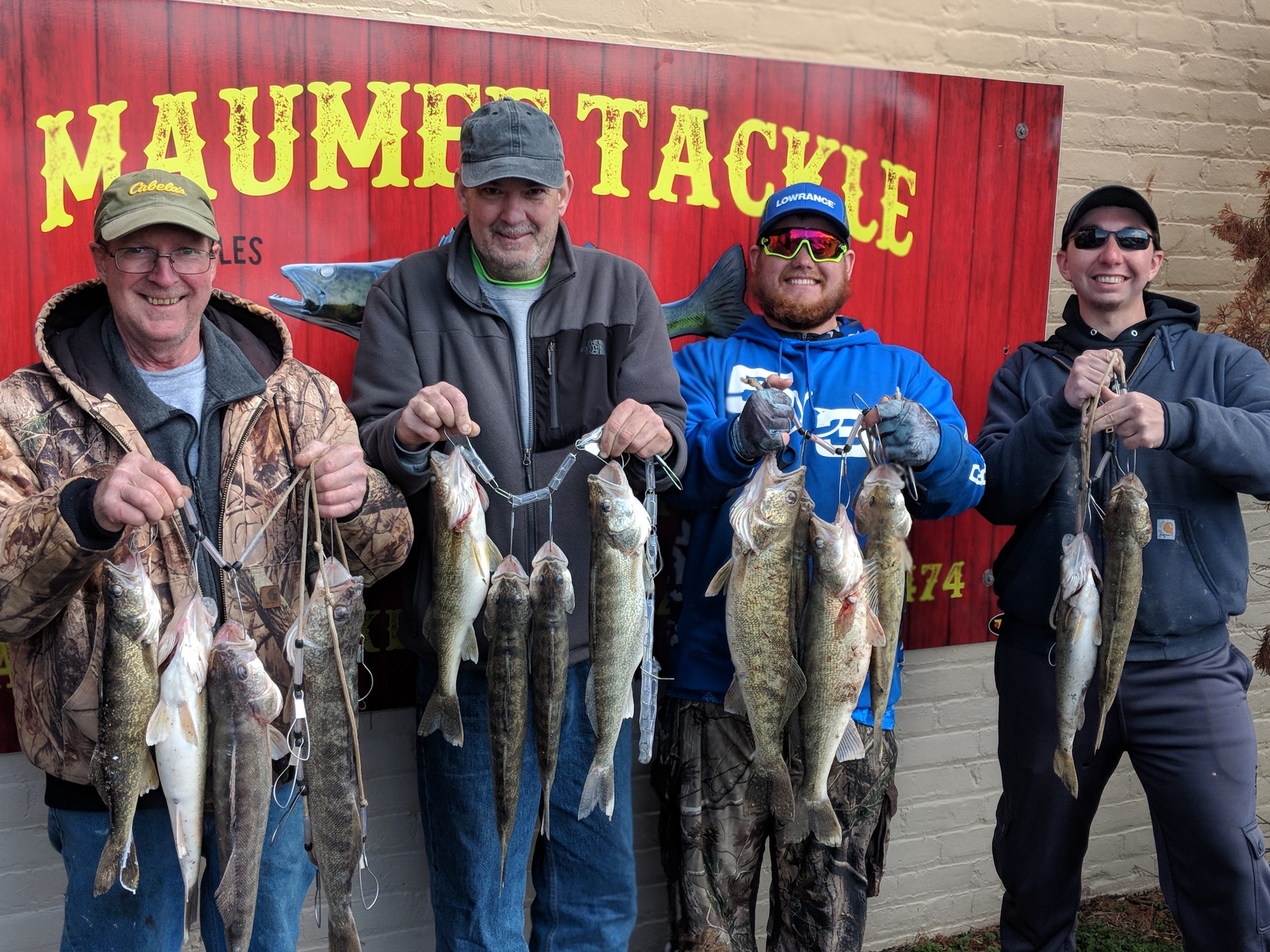 Water Level
584.5 and dropping
Water Temperature
43 degrees
Barometric Pressure
30.01 inHg. falling
Sunrise/First Cast-Â  7:13 am
Sunset / Last Cast- 8:02 pm
Weight: –  1 oz- 1  1/2 oz
Colors: Stick with the darker colors that  have been working the last few days. Orange head/ Black Tail, Glow head / Purple tail, old reliable Green head / Xmas lights  tail, and Black head / dark orange sparkle  tail.
Crossing to Bluegrass island is not permitted. The river has crested and beginning to slowly drop . We should be pretty close to 584 ft by late afternoon-thats about 2 ft above normal .

Big jack leader for the Week – 5.73 lbs
With the high water most anglers concentrated on white street and Orleans park. – The river is chock full of walleye but this high water makes it some what difficult to get that lure in front of them.   we saw some limits today  and plenty of singles and doubles come out of both areas.  The water is dropping and the weather is going to be beautiful today, should be much more productive all along the river. For you out of towners we have  waterproof maps available  that have all the access areas and boat launches marked.
Today White street and Orleans should be good. Also try Ford street and ft Meigs. Crossing to Bluegrass is out till closer to the weekend and Button wood is still a bit high as well.
*SHOP NEWS*
SO WE CURRENTLY HAVE OUR WALLEYE TOURNAMENT SCHEDULED FOR SATURDAY APRIL 13, BUT LOOKING AT THE EXTENDED FORECAST WE ARE STILL GOING TO HAVE NIGHTS IN THE 30S AND DAYS IN THE 40S–RAINS AND WIND. TO BE HONEST WITH YOU I AM SICK OF WINTER AND WOULD REALLY LIKE TO HAVE THE TOURNAMENT ON A NICE DAY. I HAVE RUN IT PAST A BUNCH OF OUR ANGLERS AND MOST AGREE, SO I AM OFFICIALLY MOVING THE TOURNAMENT TO OUR BACK UP DATE OF SATURDAY APRIL 20TH.  PLEASE SPREAD THE WORD, ALSO I WILL REPOST SEVERAL TIMES IN THE COMING WEEKS JUST TO REMIND EVERYONE.
Have fun, be safe and good luck fishing
Suggested Baits