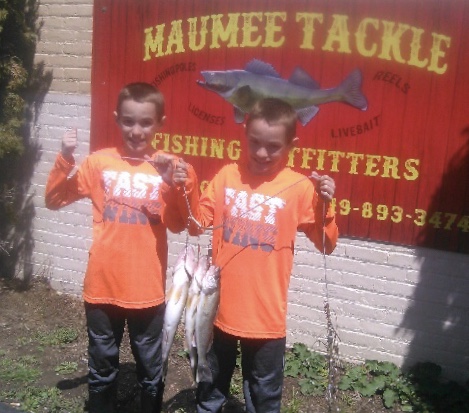 Water Temperature
54 degrees
Barometric Pressure
29.66
Sunrise- 6:33 am
Sunset-8:30 pm
WADING TO BLUEGRASS IS PERMITTED
Weight-Â 5/8 to 1/2 oz
Colors- Green head /Xmas light tail tail, Orange head/ Firetiger tail, Green head/ pink tail, Pink head/ White tail, Black head/shimmer shad tail.
The weekend bite was kinda slow as we have had 3 nights in a row that have dipped into the 30s, as you know the sudden drop in temp can significantly slow down fishing causing the fish to hunker down and not bite. Sunday we saw a lot of 1 and 2s walleye and that was about it. Today its going to warm up nicely and the bite should turn back on. I know we are nearing the end of the run but there are still alot of walleye in that river due to the long cold March and April . Withe the river being low look for that faster water and fish along the edge of it .  Jerome rd rapids, buttonwood, and Bluegrass island have been the best spots lately.
Tomrrow , May 1st, the spawning rules in the Maumee are lifted  and the limit of walleye goes up to six.  Yellow perch limit is 30 . White Bass has no limit .  Night fishing is permitted . Still no snagging 
Largemouth, Smallmouth and Spotted bass- May 1st -June 29 -Possession is prohibited- That means you can fish for them but cant keep them-catch and release only. 
Have fun be safe and good luck fishing.
Suggested Baits